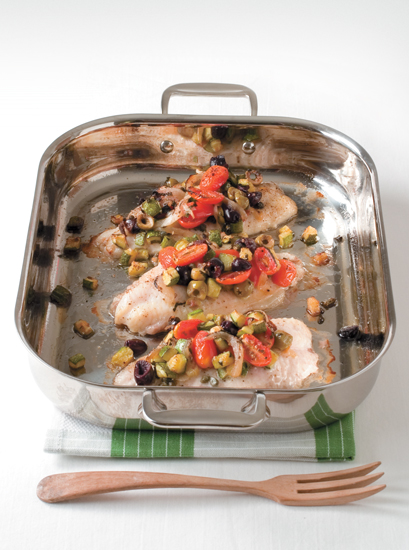 Baked Mediterranean Catfish
4 U.S. Farm-Raised Catfish Fillets
1 tablespoon olive oil
1 cup zucchini, diced
½ cup red onion, sliced
2 garlic cloves, minced
½ cup mixed Mediterranean olives, halved
½ cup grape tomatoes, halved
2 tablespoons fresh basil, chopped
1 tablespoon capers
½ teaspoon salt
¼ teaspoon freshly ground black pepper
½ cup crumbled feta cheese, optional garnish
1. Preheat oven to 450º F.
2. Heat oil in sauté pan over medium heat. When oil is hot, add zucchini, onion and garlic. Cook 5 minutes or until onions are translucent. Remove from heat. Stir in olives, tomatoes, basil and capers.
3. Lightly brush catfish fillets with olive oil; season with salt and pepper. Place fillets into lightly oiled baking dish. Spoon equal amounts of vegetable mixture on top of each fillet. Bake 15 minutes or until fish flakes easily. Serve with crumbled feta
cheese if desired.
Serves 4
Recipe provided by The Catfish Institute.