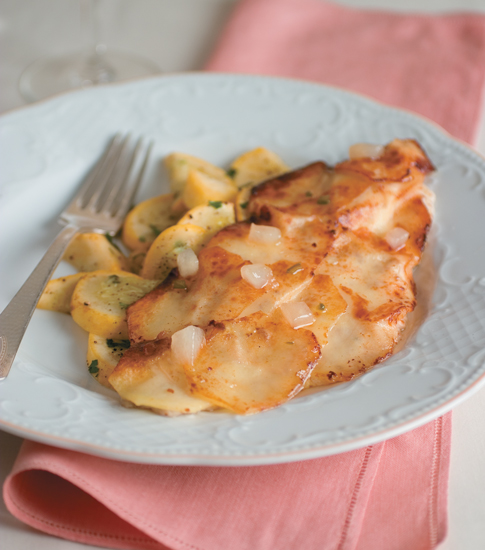 Potato-Crusted Catfish with Granny Smith's Apple & Jalapeño Glaze
Potato-Crusted Catfish
2 U.S. Farm-Raised Catfish Fillets
1 tablespoon Dijon mustard
1 tablespoon Creole mustard
1 tablespoon honey
1 teaspoon cider vinegar
2 medium potatoes, peeled and cut in paper-thin slices
4 tablespoons olive oil
Apple & Jalepeño Glaze
¼ cup apple jelly
1 tablespoon water
½ apple, peeled and diced
½ jalapeño, seeded and diced
1. Preheat oven to 350° F.
2. Mix together mustards, honey and vinegar.
3. Spread mustard mixture over top of fillets; arrange potato slices over mustard, pushing down gently.
4. Heat olive oil in nonstick skillet over medium high heat. Place fillets potato side down into skillet. Cook 4 to 5 minutes.
5. Remove fillets and place on baking sheet. Bake in oven 12 minutes, or until potatoes are golden and fish is cooked through.
6. Remove catfish from oven. Place on serving plate and drizzle with glaze.
Serves 2
Apple & Jalapeño Glaze
Combine glaze ingredients in small sauce pan. Warm slightly and drizzle over fillets when done.
Recipe provided by The Catfish Institute.