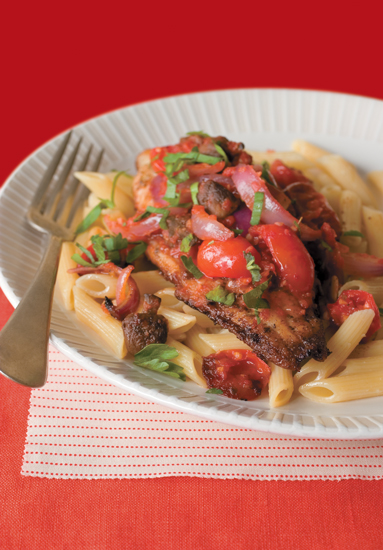 Baked Catfish Provencal
2 U.S. Farm-Raised Catfish Fillets
2 tablespoons olive oil, divided
1 cup mushrooms, sliced
½ sweet onion, thinly sliced
3 garlic cloves, minced
1 cup grape tomatoes, halved
1 cup crushed tomatoes
1 tablespoon butter
1 tablespoon dried Italian herbs
1 teaspoon salt
1 teaspoon freshly ground black pepper
¼ cup chopped Italian parsley
2 servings pasta, cooked
1. Preheat oven to 400º F.
2. Place 1 tablespoon olive oil in skillet over medium high heat. Add mushrooms, onion and garlic; sauté until tender, about 5 minutes.
3. Add grape tomatoes and crushed tomatoes; cook 3 more minutes until heated through.
4. While vegetables are cooking, add butter and remaining olive oil to ovenproof skillet over medium high heat. Season both sides of catfish with Italian herbs, salt and pepper. Carefully place catfish in skillet; cook 3 minutes. Turn fillets and cook another 2 minutes.
5. Slowly spoon vegetable mixture onto fillets in skillet. Place in oven and cook 5 minutes. Remove from oven; sprinkle with Italian parsley. Serve with your favorite pasta.
Serves 2
Recipe provided by The Catfish Institute.