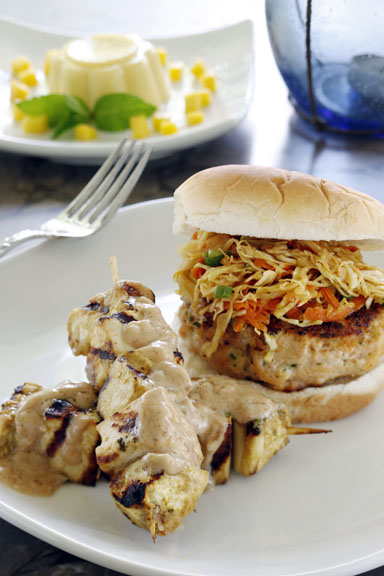 Casual Thai

As the lazy days of summer wind down, you may have grown tired of the traditional barbecues and cookouts of the season. While summer entertaining, with its more casual style, is appealing, you're probably looking for an alternative to the same old menus.

This month's Casual Thai menu features simple recipes for an informal dinner for family or friends. Salmon Burgers get an Asian accent and are paired with a light, delicious (although not completely authentic) Thai-Style Slaw. The slaw is excellent served as a condiment for the burgers.

Grilled Eggplant and Tofu Sates are perfect for your vegetarian friends, or as a side dish for the meat eaters among your group, and the creamy peanut sauce takes the flavor of the sates to another level.

Dessert is a simple Mango Mousse, that is actually more of a tropical panna cotta since unflavored gelatin binds the ingredients together. The dessert is the perfect finish to this Thai-inspired menu.

If you'd like to add another side dish or two, check out my recipes for Jasmine Fried Rice, Fried Rice with Pineapple or Cucumber-Peanut Salad on this site.