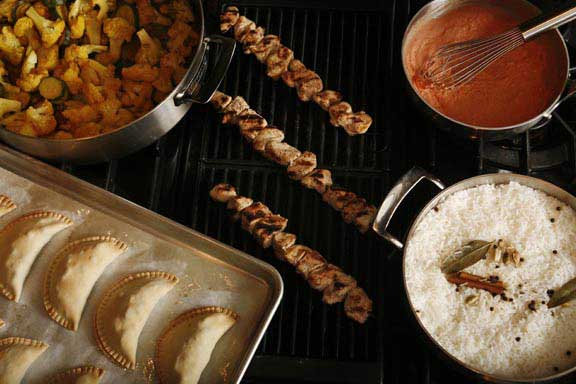 Curry Scented

The flavors of India are not as well known in the United States as they are in Great Britain, where enjoying a "curry" is as simple as heading up the street in small towns and large cities alike. Larger U.S. cities generally offer a few Indian restaurants, and an exciting assortment of Indian spices and varieties of rice are now available in most corner supermarkets.

This Curry Scented menu simplifies preparing an Indian meal at home. Vegetable Samosas are baked, not fried, and are served with a creamy Cucumber Raita. Chicken Curry is an simple curry that is mild enough to be enjoyed by the whole family. Sides of Cauliflower Curry and Spiced Basmati Rice, you have a healthy, hearty meal that will be a nice change from typical American Fare.

Using prepared garam masala, a spicy curry powder available in some supermarkets or in Indian markets, saves time. The spice mixture* also can prepared at home with whole spices that are toasted, cooled and then ground in a coffee grinder. When choosing this method, use a coffee grinder that you reserve only for grinding spices since the oils from the spices will remain on the walls and blades of the grinder.

Fresh fruit and coconut or mango sorbet would make a great ending this Indian-inspired family menu.

*Garam Masala
2 tablespoons cumin seeds
2 tablespoons coriander seeds
2 tablespoons green cardamom pods
2 tablespoons black peppercorns
1 (3-inch) stick cinnamon, broken into smaller pieces
1 teaspoon whole cloves
1 teaspoon grated nutmeg
Combine the cumin, coriander, cardamom, peppercorns, cinnamon and cloves in a dry heavy skillet over medium-high heat. Toast the spices, stirring occasionally, until they turn several shades darker and are very fragrant, about 5 minutes. Cool completely.
Place the mixture in a spice mill or coffee grinder and grind to a powder. Stir in the nutmeg. Use immediately or store in an airtight container in a cool, dry place.
Garam Masala keeps for 3 months.
Makes about 1/2 cup