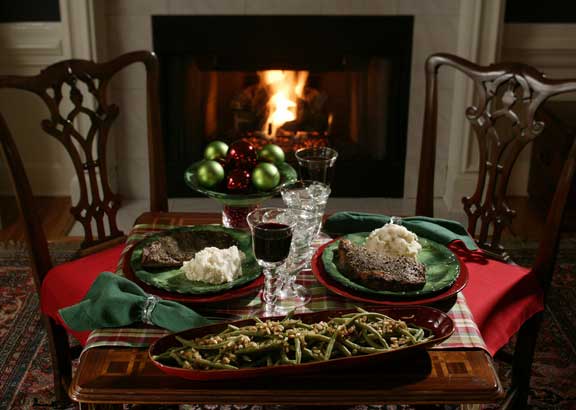 Fireside Holiday


An open fire (with or without roasting chestnuts) conjures images of cozy holiday togetherness. And this holiday season, we're suggesting that you entertain in front of the fire with a menu full of traditional holiday favorites, plus some new inspired creations.

A layered terrine of creamy rosemary-infused goat cheese and walnut-spinach pesto makes a perfect pre-meal hors d'oeuvre for this menu of Garlic-Herb Prime Rib, Boursin Mashed Potatoes and Green Beans Vinaigrette with Pine Nuts. For dessert, how about a Pumpkin Flan that is both simple to prepare and can be made ahead?

The menu can serve a crowd, or can be pared down for an intimate gathering of two. Enjoying this holiday meal with a glass of hearty red wine in front of on open fire will definitely keep Jack Frost from nipping at your nose!