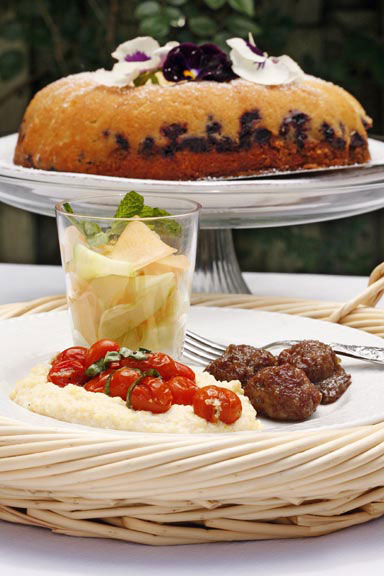 Herb Garden Brunch

May is the perfect month for dining outdoors throughout the U.S. Things are warming up in the northern states and the heat isn't oppressive yet in the South. So, head outside to dine on this month's Herb Garden Brunch that's loaded with the fresh flavors of spring!

Our menu for May starts off with a crisp, cool Cucumber-Cantaloupe Salad with Orange-Vanilla Syrup that features a hit of mint. Mascarpone Polenta with Grape Tomato Sauce is a meatless main with flavorful grape tomatoes and fresh basil atop creamy polenta. A side of Maple Breakfast Meatballs will please the meat eaters in the group, and a citrus-spiked Blueberry-Orange Coffee Cake will become a family favorite.

Most of the menu items can be prepared at least partially in advance, allowing you to enjoy the meal, too. Invite friends over to share this leisurely brunch on the patio or under a shady tree, or serve it up in honor of Mother's Day.