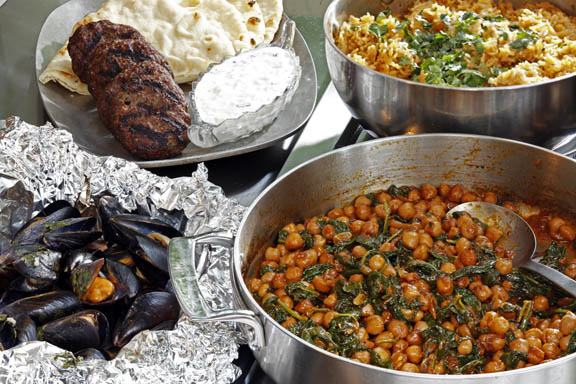 Indian on the Grill

My husband, Bond, and I are big fans of Indian food. We're also big fans of our Viking 53-inch gas grill. We found a way to combine the two in this menu that is perfect for summer entertaining.

Foil-Pouch Coconut Curried Mussels are the perfect starter. For the meat-eaters, we've turned Kofta, a traditional ground meat dish that is usually grilled on metal skewers, into burgers, serving them up on naan bread with a cooling Raita. Sides of Basmati Pilaf and Chickpea and Spinach Curry cook up on our grill's side burners and satisfy our vegetarian friends.

Cool things off with some chilled Mango-Yogurt Soup, which is my version of a Mango Lassie, but a bit simpler to prepare because it includes just two ingredients.