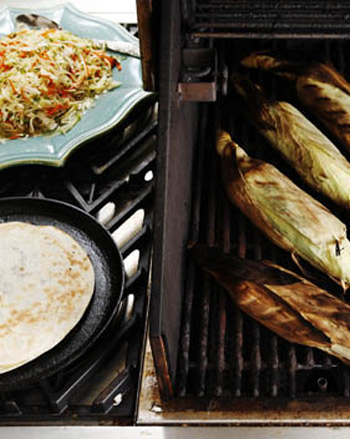 Mexican on the Grill
Many American home cooks think that cooking a Mexican meal at home means sautéing some ground beef in a packet of taco seasoning. But you can cook up a much more authentic Mexican meal in almost no time with the help of your Viking grill.

Start your menu with Black Bean and Mango Quesadillas that you can cook up on your grill's side burners. For the entrée, Tacos de Carne Asada get a flavor punch from a quick marinade in lime juice and minced garlic. Twenty minutes before you're ready to serve dinner, toss some unshucked ears of corn on the grill for Mexican Grilled Corn that will be spread with Mexican sour cream or mayonnaise and sprinkled with cheese. A side of Jicama Slaw is a cool, crunchy addition to the menu. And for dessert, enjoy a rich make-ahead Tres Leche Cake.