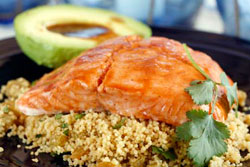 Quick, Easy and Elegant

Most of us blessed with a Viking kitchen know the pleasures of spending a day at the stove preparing an elaborate meal. But most of us also live busy lives, and those long and labor-intensive days in the kitchen can be few and far between.

In 1999, Fred Carl, founder and owner of Viking Range Corporation, asked me to begin posting quick and easy, family friendly recipes on the Viking web site. Despite his pioneering professional performance appliances for the home kitchen, Fred understood that busy families needed recipes that are accessible in their everyday lives, not just special occasion, gourmet recipe ideas.

This month's menu gives you the best of both worlds. The menu packs gourmet flavor with little fuss. A simple starter of Hot Avocado Boats pairs peeled and seeded avocado halves with a sweet and spicy hot vinaigrette. Bottled barbecue sauce gets a citrus twist and glazes oven-roasted Citrus-Q Salmon. Couscous is a quick cook's friend, and a Sunny Couscous Salad pairs perfectly with the glazed salmon.

For dessert, we've got a quick and easy Frozen Mocha Mousse Pie. A little espresso powder gives this pie a nice coffee kick. The pie is best made ahead so that it has time to freeze completely.