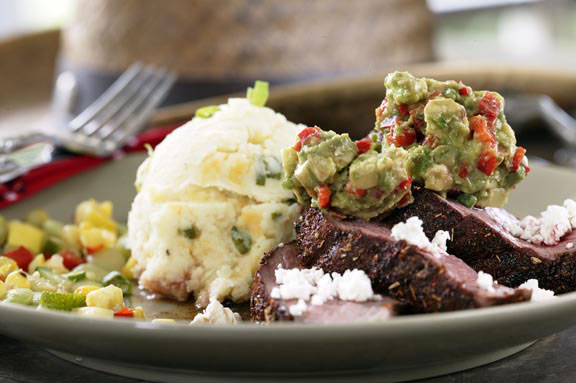 Sophisticated Southwestern
Southwestern cuisine is most often associated with Tex-Mex items like grilled steak fajitas. And while fajitas are great for casual entertaining, the flavors of the Southwest can be featured in an elegant dinner party menu.
Our Sophisticated Southwestern menu serves six to eight, and starts with a luscious Chilled Avocado-Lime Soup. The soup is topped with a dollop of Crab Ceviche, making this a company-worthy starter.
You can't have Southwestern cooking without a little spice, and Chile-Rubbed Tenderloin uses a Southwestern seasoning blend that you can purchase at your supermarket to give this elegant cut of beef loads of flavor. Salsa is a Southwestern staple, and here the fresh salsa ingredients are broiled and blended into a Roasted Salsa Puree. This fat-free sauce is full of complex flavors! A dollop of Avocado Relish and a scattering of crumbled feta are the finishing flourishes.
Coming up with Southwestern side dishes usually means serving some sort of rice and beans, but Cumin-Cheddar Mashed Potatoes have Southwestern flavor and will satisfy your "meat and potatoes" guests. Southwestern Succotash is a veggie-packed sauté that's flavored with cumin.
A Frozen Strawberry Margarita Pie is the perfect finale, and is a snap to prepare with a Viking Food Processor. A pretzel crust adds a nice salty crunch, and fresh orange zest adds extra character to the filling.