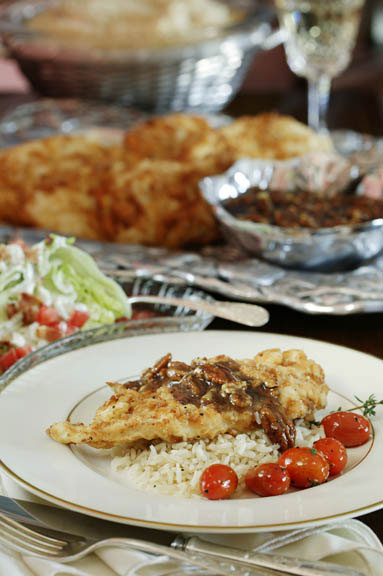 Southern Traditions
You don't have to live in the South to enjoy the tradition of Southern hospitality. While much of the South has grown and changed, a warm welcome is a Southern tradition that remains. True Southern hosts and hostesses will usually have sweet tea at the ready, along with a "little something" to offer unexpected guests. And for Sunday supper (which is the midday meal), many families still enjoy a feast of fried chicken, biscuits and a bevy of vegetables and sides.
This month's menu highlights some old Southern favorites with an updated twist, and features traditional Southern foods including peaches, fried chicken, pecans and peanuts.
Our meal begins with elegant Mini Catfish Cakes with Peachy Tartar Sauce. The Catfish Cakes are followed by an old-fashioned Iceberg Wedge Salad with Blue-Ranch Dressing. The main course takes Southern fried chicken in a more elegant direction, as boneless, skinless chicken breast halves are fried and topped with a sweet and slightly spicy honey-pecan sauce. Baked Rice is the perfect accompaniment. Other fitting side dishes would be sautéed grape or cherry tomatoes, roasted petite green beans or slow-simmered Southern collard greens.
Dessert is a family favorite - Frozen Peanut Butter Pie, topped with a drizzle of warm chocolate sauce and melted peanut butter.