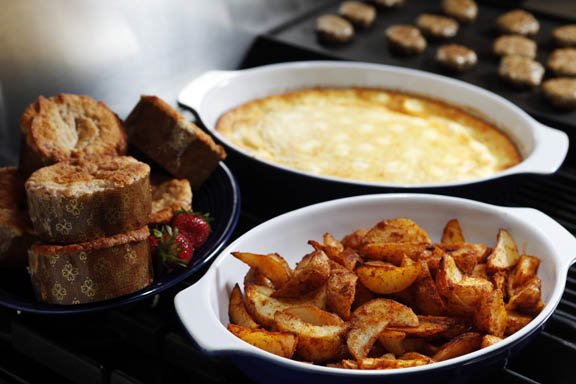 Spring Brunch

Make your weekend special by inviting some friends over for a spring brunch. Sound like too much work? These recipes can all be made ahead, letting the cook enjoy the get together as much as the guests.

A casserole of Cheesy Baked Eggs takes center stage, and it can be assembled and refrigerated (covered) the night before you bake it. Just let the casserole rest at room temperature while you preheat the oven. Serve some Homemade Chicken Sausage alongside the casserole. The sausage mixture is best made ahead and refrigerated overnight to allow the flavors to marry. The sausage recipe and the brunch's Zesty Baked Eggs will make good use of your well-stocked spice rack, as they are loaded with flavor. For a sweet touch, bake up some Jumbo Strawberry Cinnamon Muffins. The muffins can be made one month ahead and frozen. Defrost the muffins and then wrap them in foil and reheat them in the oven for 10 minutes at 350 degrees before serving.

All you need to complete the menu is a big fruit salad from the produce section, some high quality or freshly squeezed orange juice and a pot of hot coffee.