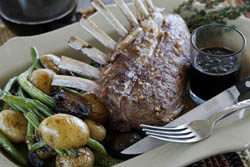 Spring Lamb

Serving lamb in the spring is a culinary tradition that dates back to the time when lamb was not available year-round. Despite the continuous availability of lamb today, the tradition still holds.

This menu features roasted racks of lamb that are drizzled with a sweet, minty red wine reduction sauce. A starter of walnut-crusted Goat Cheese Soufflés with mixed spring greens sets the stage perfectly for the lamb. Roasted Baby Potatoes with Mushrooms and Green Beans are a simple side.

A Lemon Tart with Berry Sauce is the perfect ending for a March menu, highlighting lemons, which are still in season. The sauce uses both frozen and fresh berries since Florida strawberries are just appearing in supermarkets this month.