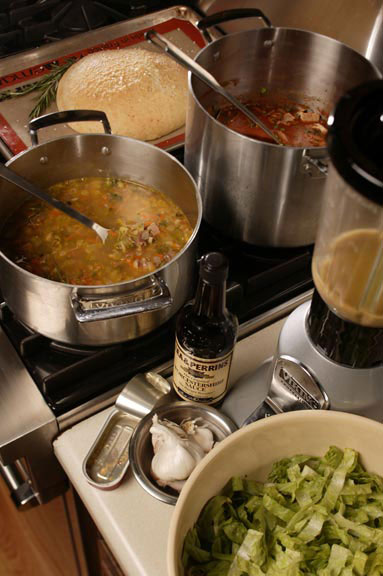 Sumptuous Soup Supper

Autumn is a great time for casual entertaining, and there's nothing more satisfying than offering guests a hearty meal of homemade soup. My Sumptuous Soup Supper is perfect for an evening spent enjoying a college football game or chatting with friends and neighbors in front of the fire.

The menu starts with C.C.'s Caesar salad, a favorite prepared by my 12-year-old daughter C.C. Two Italian-inspired soups, Tuscan Bean Soup and Italian Seafood Stew, are simple to prepare yet supremely satisfying. Food Processor Rosemary Foccacia is delicious for dipping into the soup.

Chocolate Pecan Tarts are a decadent finale to the meal, and the menu is perfect for entertaining throughout the fall and winter. Consider serving the menu the night before Thanksgiving or on Christmas Eve. Or, do as I did several years ago and invite friends for a "Souper Shopping Break" luncheon during the busy holiday shopping season. Add another bread, perhaps the Cheddar-Herb Muffins or Black Forest and Muenster Rolls posted on this site, and two more soups (consider Mushroom Bisque and Creamy Onion Soup also on this site) for a meal that will serve 24 to 30.