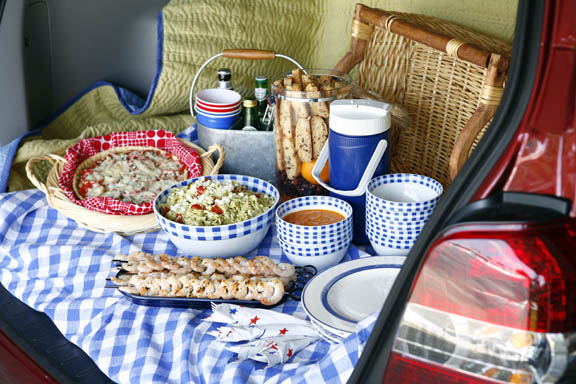 Tailgate Time
Tailgating has become a national pastime. Whether you're at a college football game, polo match or horse race, seeing what other tailgaters are preparing is almost as fun as rooting for your favorite team.
This month's menu is both versatile and delicious. All of the dishes can be prepared ahead, or you can take along a portable grill and grill up the shrimp for Shrimp and Orzo Salad. The menu takes advantage of the season's fresh produce with Curried Red Bell Pepper Soup and a savory Tomato-Zucchini Tart. The tart and the soup are delicious served at any temperature.
Dessert is crisp Cranberry-Orange Biscotti with a surprising twist. The surprise is that these biscotti start with a package of cake mix, making them extremely easy to prepare.
All you need to complete your menu is an assortment of chilled beverages and some good friends.