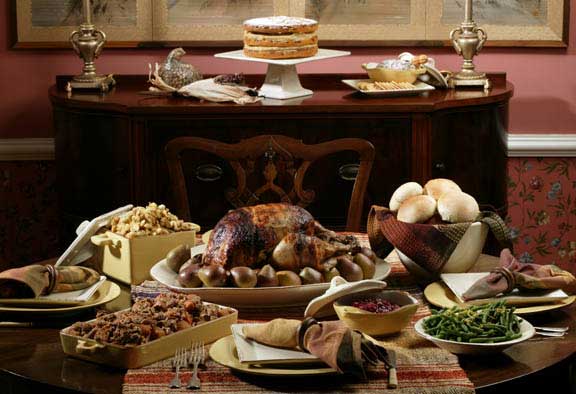 Thanksgiving Feast
When you open popular cooking magazines it's hard to resist the urge to toy with tradition when it comes to the Thanksgiving feast. But if your family were to be completely honest with you, they would probably tell you that they're not interested in a meal of "chili-rubbed turkey with chorizo dressing" unless that's your traditional Thanksgiving meal.
Most families crave the Thanksgiving feast they've come to know and love. If you're an adventurous cook, this requires a great deal of restraint, since this may be the one meal a year where you have a large audience to impress with your culinary creations. However, your creativity need not be thwarted completely. Add a new appetizer, and serve a new dessert alongside the traditional pies.
This month's menu features items enjoyed on my family's Thanksgiving table. Four ingredients are all you'll need to whip up a delicious Cranberry-Blue Cheese Ball. A moist, succulent Rotisserie Turkey can be cooked up practically unattended on the Viking outdoor grill's rotisserie attachment. Sweet Potato Crumble has all the flavor of your favorite sweet potato casserole, but is much simpler to prepare. Nana's dressing is my family's favorite, a combination of cornbread and white bread prepared by my mother-in-law, Carol Calloway. The meal finale is a Pumpkin-Pecan Pie Cake that combines the flavors of the traditional pies served during the Thanksgiving holiday, and is a fun change of pace for those who prefer cake over pie.
Check out other recipes on the Viking site to round out your Thanksgiving meal. Recipes to consider include: Cranberry-Brie Tarts, Sweet Potato Muffins, Special Cider Salad, Sweet Potato Soup, Blistered Brussels Sprouts, Roasted Autumn Vegetables and Pumpkin Praline Cheesecake.