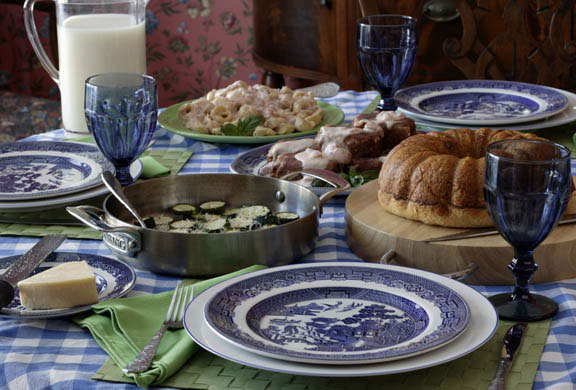 Weeknight Family Fare
The equation is simple. Working parents plus busy children equals no time for family meals. In fact, for most families the kitchen table is more often used for homework and as a place to fold laundry than as a dining spot. However, with a little supermarket savvy, you can enjoy a home-prepared meal with little work.
This weeknight family menu is kid-friendly and supremely simple to prepare. Start preparing the meal by preheating your oven to 350 degrees, since three of the menu items will end up in the oven. Tubes of crescent roll dough become a delicious buttery herbed bread ring with the help of prepared garlic butter spread and Italian seasonings. Serve the bread alongside a salad of bagged greens tossed with your favorite bottled vinaigrette.
For the main course, meatloaf takes an Italian turn when prepared tomato pesto is added. The meatloaf is served as individual mini meatloaves, which are topped with a sauce of jarred Alfredo sauce mixed with seasoned diced tomatoes. There's enough sauce to toss up a delicious side of tortellini. Pan-Roasted Zucchini starts on top of the stove, but finishes off in the oven.
Dessert is classic Italian with a quick and easy twist, as cannoli becomes "Cone-Oli" when the sweetened ricotta cannoli filling is scooped into sugar ice cream cones. With a meal this simple, you'll be able to welcome your family back to the kitchen table in under an hour.