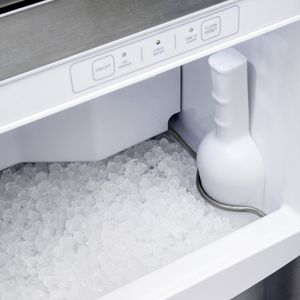 Viking Introduces New Professional Nugget Ice Machine
New Features and Benefits
The new Viking Professional Nugget Ice Machine includes the following new key features:
Soft and chewable ice that is perfect for all types of beverages as the soft form enables the ice to assume the flavor of the beverage
80 pounds of ice production in 24 hours
Ice bin stores up to 26 pounds of ice
Uses 40% less energy and more than 50% less water than comparable ice machines
Available in both gravity drain or with a built-in pump
Agency approved for both indoor and outdoor use
Model Numbers and Descriptions
FGNI515 – 15"W. Nugget Ice Machine – Gravity Drain
FPNI515 – 15"W. Nugget Ice Machine - Pump
Finish Availability
The Nugget Ice Machine is available as a no-front unit with a field reversible hinge. The PIDP15 panels that fit the current clear ice machines will also fit this new nugget ice machine.  These panels are available in Stainless Steel.
Cost and Ordering Information
Orders can be placed beginning 10/29/2013 for all the models on the cost schedule.
Shipments for the new Nugget Ice Machine will begin in November.
Sales Support Materials
Please click on the links below to view the sales support materials provided to help market these new Built-In Refrigeration products in local areas. These items include:
Dimensions for the new Nugget Ice Machines will soon be available from the following sources:
Viking consumer Web site www.vikingrange.com
Dimensions Express by dialing 925-284-3558 from a fax machine
Dimensions Express Web site www.dexpress.com