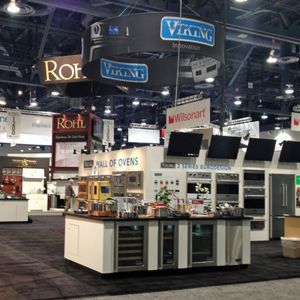 Press Coverage from Viking KBIS Booth (Video)
The recent 2014 Kitchen Bath Industry Show was a very busy show for Viking. Watch videos and read articles about the event. Not only was the booth packed with attendees, but the introduction of 50 new products received attention and coverage from the press. Below are a few examples:
Reviewed.com
If you are having trouble viewing the embedded video, click here.
Viking Takes the High End Even Higher With Its New 7 Series
Viking Professional TurboChef Wall Oven First Impressions Review
Consumer Reports
Viking adds pro-style features to its consumer line
Cnet
Meet Viking's newest kitchen appliances
Twice
Viking's KBIS Launch 'Historic' In Size
Kitchen Bath Business
Viking Range Debuts Unprecedented Number of New Products at KBIS
Curto's Appliances
KBIS 2014: Rocking with New Viking ovens
thekitchn.com
The Best Things I saw at KBIS This Year
Dwell Magazine Instagram
Solid brass burners on Viking's new professional series range