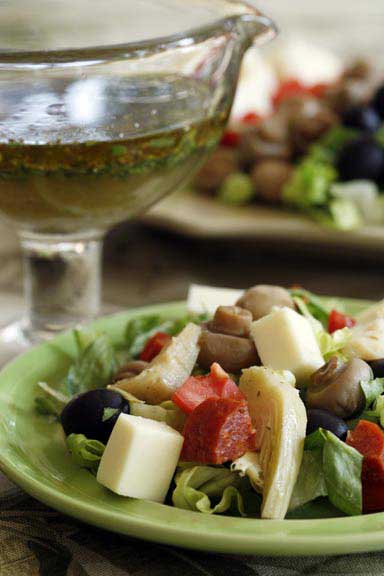 Antipasto Salad with Lemon-White Balsamic Vinaigrette

An antipasto salad can be the beginning of an Italian meal or a meal in itself. This special salad is loaded with salami, mozzarella, artichoke hearts, mushrooms and olives and is tossed with a tangy lemon-white balsamic vinaigrette.

If you can't find the white balsamic vinegar in your area, substitute white wine vinegar, regular balsamic or sherry vinegar.

While I suggest serving the salad on individual salad plates you can present this family style on a large platter. And you can add more tasty toppings including hearts of palm, pepperoncini peppers, chunks of tuna and more. The options are only limited by your imagination.



Salad



1 head romaine lettuce or green leaf lettuce, washed and torn
3 tomatoes cut into wedges
1 jar marinated artichoke hearts, drained (reserve juices)
1 jar marinated mushrooms, drained (reserve juices)
1 cup pitted black olives
1/3 pound salami slices (rolled) or cubes
8 ounces mozzarella cheese, cubed
Lemon-White Balsamic Vinaigrette (below)

Toss vinaigrette and marinade from artichokes and mushrooms with salad greens. Arrange the dressed lettuce on salad plates. Arrange tomato wedges, marinated artichokes and mushrooms, ripe olives, slices of salami and cubes of mozzarella on top of greens.

Lemon-White Balsamic Vinaigrette
2 tablespoons chopped fresh parsley
8 to 10 fresh basil leaves, chopped (about 2 tablespoons)
1 teaspoon dried oregano
3 tablespoons fresh lemon juice
2 tablespoons white balsamic vinegar
Reserved juices from the artichoke hearts and mushrooms
2 cloves garlic, peeled and crushed
1/3 cup extra virgin olive oil
Salt and pepper, to taste
Combine all ingredients except oil in a food processor fitted with a metal blade. Drizzle in the oil a little at a time. Taste and add more salt and pepper, if needed.
Makes 6 servings.