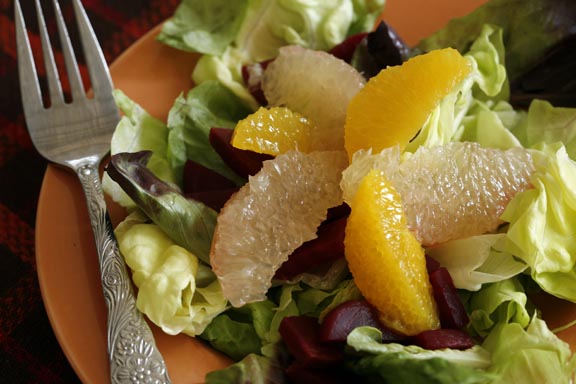 Citrus Salad with Champagne Vinaigrette

While citrus fruits are available year-round, the first true in-season oranges hit stores in November, followed closely by big, juicy grapefruits. When they're at their peak, you'll see citrus fruits frequently on the menu at my house. From freshly squeezed juice at breakfast, citrus sections packed into school lunches or served as an afternoon snack to this special tossed salad that's packed with citrus tang.

The Champagne Vinaigrette pairs fresh orange and grapefruit juices with champagne vinegar, shallots, honey and olive oil. The dressing can be made ahead. The combination of the citrus juices and champagne vinegar is nice and light, but most supermarkets don't carry champagne vinegar. If you don't have time to make a trip to your favorite gourmet foods store, simply substitute rice wine vinegar from the supermarket. It has a similar light flavor.

The salad is a combination of mixed greens, orange and grapefruit segments and wedges of soft, ripe avocado all piled atop some sliced beets. The bright red beets beneath the salad add a bit of surprise and whimsy. Candied walnuts, pecans or almonds would be a nice crunchy addition to the salad.




Vinaigrette



1 small shallot, peeled and finely minced
1/4 cup champagne vinegar
1/4 cup freshly squeezed grapefruit juice
1/4 cup freshly squeezed orange juice
Zest of 1 orange
1 tablespoon honey
1/4 - 1/2 cup extra-virgin olive oil
Salt and freshly ground black pepper, to taste
Combine the shallots, vinegar, citrus juices and salt to taste in a small bowl. Set aside for 30 minutes. Whisk in the honey and olive oil and season to taste with freshly ground black pepper.
Salad
Mixed greens – preferably a combination of frisee and butter lettuce
1 jar whole baby beets, drained and cut into rounds
2 grapefruit, peeled and sectioned
2 oranges, peeled and sectioned
1 avocado, peeled and cut into wedges, optional
Place the greens in a large bowl and toss with some of the vinaigrette. Taste for seasonings, and add more salt, pepper or vinaigrette, if needed.
Divide the beets among 6 chilled salad plates. Top with some of the greens, then divide the grapefruit, oranges and avocado over the top. Serve immediately.
Makes 6 servings.