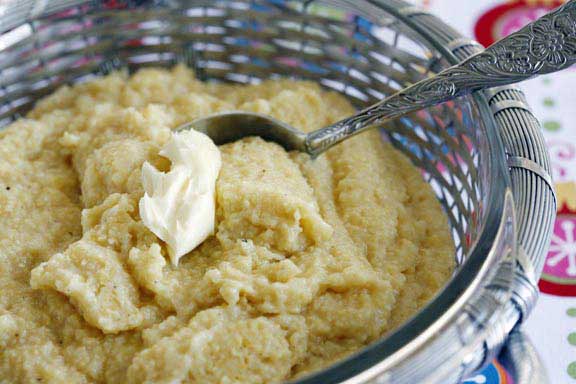 Creamy Oven-Baked Polenta
Making polenta could be described as a workout for your upper arms, since most recipes require lots of stirring. But making creamy polenta doesn't have to be so much work. Our Creamy Oven-Baked Polenta is as simple as combining chicken broth and polenta in a baking dish and popping it into the oven. The dish only needs to be stirred once, and the end result is delicious, perfectly cooked polenta that you can use as a side dish or as a base for a hearty ragout (see Pork, Cider and Root Vegetable Ragout on this site.)
While our polenta is simply flavored with a little butter, salt and pepper, feel free to add shredded cheese, fresh herbs or finely chopped sundried tomatoes at the end of cooking.
4 cups reduced-sodium chicken broth
1 cup polenta
2 tablespoons butter
Salt and freshly ground black pepper
Preheat oven to 350 degrees F. Combine chicken broth and polenta in a 3-quart oven-proof baking dish and place in the oven. Bake for 1 hour, stirring after 30 minutes. Remove from oven, stir in the butter and season to taste with salt and pepper.
Makes 8 servings.