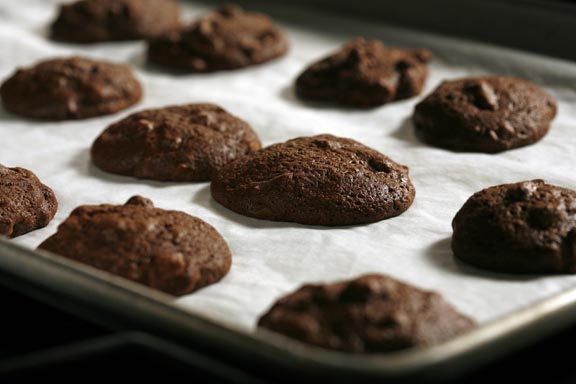 Chocolate-Pecan Cookies
What could be better than the sublime flavor of chocolate surrounding bits of toasted pecans? The flavors are combined here in some crispy cookies that include lots of bittersweet chocolate.
The method for whipping up these confections is a bit different then most cookies and is made simple with the help of your Viking Stand Mixer. The mixer is fitted with the whisk attachment, and eggs, brown and white sugars, vanilla and coffee-flavored liqueur are beaten until the mixture is thick and pale yellow, much like the method used in many cake recipes. The texture of these cookies is not cake-like, however, but nice and crisp.
Toasting the pecans in the microwave helps avoid accidentally burning the nuts. Simple spread the pecan on a dinner plate and microwave for one minute. Stir and microwave at 30-second intervals until they are toasty and fragrant.
A cup of hot coffee or a glass of milk and a plate of these cookies will land you in cookie heaven. They're also delicious served with a bowl of vanilla ice cream.
1 1/2 cups all-purpose flour
1/2 teaspoon baking soda
1/2 teaspoon salt
6 ounces good quality bittersweet chocolate, chopped
1/2 cup (1 stick) butter
3 large eggs, at room temperature
1/3 cup packed dark brown sugar
1/3 cup granulated sugar
1 teaspoon vanilla extract
1 tablespoon coffee-flavored liqueur
1 1/2 cups chopped pecans, toasted
3.5 ounces good quality bittersweet chocolate, chopped
Preheat oven to 375 degrees F. Line two baking sheets with silicone mats or parchment paper and set aside. Combine the flour, baking soda and salt in a bowl and set aside.
Place 6 ounces of chocolate and butter in a microwave-safe bowl and microwave for 1 minute. Stir, return to the microwave and microwave for 30 seconds more. Stir and continue until chocolate and butter are melted. Set aside to cool slightly.
Combine the eggs, sugars, vanilla and coffee liqueur in a stand mixer fitted with the whisk attachment. Beat for 5 minutes, until the mixture is light yellow and thick. Fold a little of the egg mixture into the melted chocolate and then fold into the egg mixture. Fold in the dry ingredients. Stir in the pecans and 3.5 ounces of chopped chocolate.

Use a small cookie scoop to drop the dough on the lined baking sheets (or drop by rounded tablespoons) 1-inch apart. Bake for 12-14 minutes, until cookies are set on top. Cool on baking sheets on wire racks for 5 minutes and then transfer to wire racks to cool.
Makes 3-4 dozen cookies.