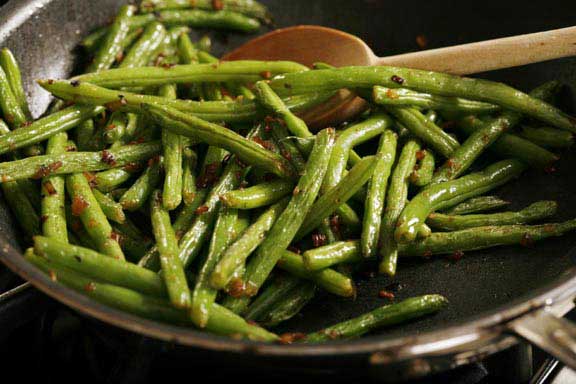 Pancetta-Seared Green Beans

Green beans with bacon is as all-American as a side dish gets. Here, we swap out the bacon with smoky pancetta and add fresh herbs and garlic for an updated variation that's also delicious with Brussels sprouts, broccoli or asparagus.

The beans make a great side to roasted meats, especially holiday prime rib and turkey. They also pair beautifully with the Mustard-Coated Racks of Lamb posted on this site.



2 tablespoons olive oil
4 ounces pancetta, chopped
1 pound fresh green beans, stem ends removed
1 tablespoon minced garlic, about 3 large cloves
3 tablespoons chopped fresh parsley
1 tablespoon chopped fresh rosemary
Sea salt and freshly ground black pepper, to taste
Heat oil in a large skillet over medium-high heat. Add pancetta and cook, stirring frequently, until crisp, for about 8 minutes. Remove pancetta to a paper towel-lined plate and set aside.
While pancetta cooks, steam green beans in a stove-top steamer or in the microwave until crisp-tender, about 5 minutes. Drain well.
Heat drippings in skillet and add beans, garlic and herbs. Season with salt and pepper and sauté until beans begin to caramelize slightly. Season with salt and pepper and serve immediately.
Makes 4 servings.