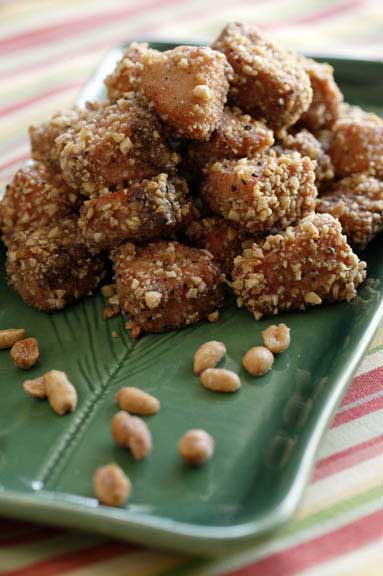 Bourbon-Brown Sugar Salmon Nuggets

Chicken nuggets are a favorite of children, but they're usually not for the "adult" palate. For more adult taste and the "pop-ability" of the nuggets, I came up with Bourbon-Brown Sugar Salmon "Nuggets," a perfect cocktail party nibble.

The nuggets also make a delicious salad topper. Serve with mixed greens topped with shredded cheddar cheese, diced tomato, sliced green onion and tossed with honey mustard vinaigrette for a nice summer entrée salad.


1 1/2 to 2 pounds salmon fillets (about 3 center-cut fillets), skinned and cut into 1-inch pieces
1/3 cup brown sugar, packed
3 tablespoons bourbon
2 tablespoons soy sauce
1 cup honey roasted peanuts, very finely chopped into a chunky powder
3 tablespoons coarsely ground black pepper
Place salmon pieces in a zip-top plastic bag or container with a tight-fitting lid. Combine brown sugar, bourbon and soy sauce in a small bowl and pour over the salmon nuggets. Mix well, seal tightly and refrigerate overnight.

Preheat oven to 450 degrees F. Line a baking sheet with a silicone mat or foil and spray with nonstick cooking spray. Drain the salmon nuggets well and pat dry with paper towels. Combine 1/3 cup of the chopped peanuts and 1 tablespoon of the pepper in a plastic bag. Add 1/3 of the salmon nuggets and shake to coat well. Place on prepared pan. Continue coating using 1/3 of the peanuts, 1 tablespoon of the pepper and 1/3 of the nuggets until all are coated. Bake 10 minutes.



Makes approximately 40 nuggets.