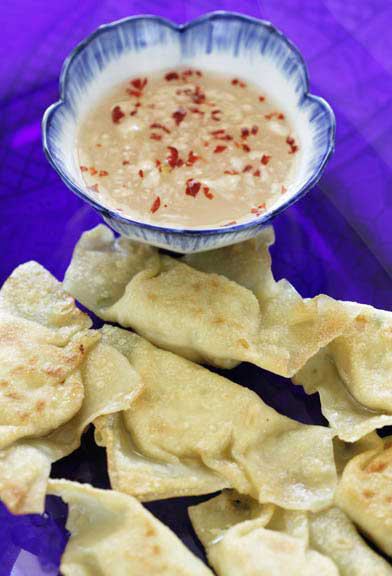 Chicken and Shrimp Dumplings

Pan-seared or steamed in a bamboo steamer, Asian dumplings are a family favorite at my house. And, with the help of prepared wonton wrappers and a few other ingredients they are quite simple to prepare. In fact, I shared the recipe with a group of middle school students attending my summer cooking camps, and their families have reported back that their children prepare them regularly almost unsupervised.

While I like the combination of the chicken and shrimp, you can simply use one or the other, or substitute ground pork. In a pinch, I've even used mild breakfast sausage to which I've added some chopped green onion, soy sauce, and grated ginger.

Here, the dumplings are pan-seared in a combination of peanut and dark sesame oil. The sesame oil adds another dimension of flavor, but can be omitted. A simple sauce of sugar, vinegar, garlic, and chopped red chile pepper is the perfect accompaniment, but you could substitute a prepared sweet chile sauce from the Asian foods sections of your supermarket.


1/2 pound medium shrimp, peeled, deveined
1/2 pound chicken breast meat
2 green onions, coarsely chopped
1/4 cup sliced water chestnuts
1 tablespoon Maggi seasoning or soy sauce
2 teaspoon rice wine or dry Sherry
1 teaspoon dark sesame oil, plus 2 teaspoons for sautéing
1 teaspoon minced garlic, about 1 large clove
1 egg
1 tablespoon cornstarch, plus additional for dusting
Salt and ground white pepper, to taste
1 16-ounce package wonton wrappers
Water
2 tablespoons peanut oil, divided
2 teaspoons sesame oil, divided
1 cup chicken broth
Combine shrimp, chicken, green onions, water chestnuts, Maggi seasoning or soy sauce, rice wine or sherry, sesame oil, minced garlic, egg and cornstarch in the bowl of a food processor fitted with a metal blade. Season with salt and white pepper, and pulse until minced. Place a wonton wrapper on a flat surface and with approximately 1 1/2 teaspoons of the shrimp mixture. Place about 1/2 cup water in a small bowl and brush the outside of the wrapper with water, bring two corners of the wrapper together and press. Crimp around outside of wrapper, pressing to seal and place on a parchment paper-lined baking sheet that has been dusted with cornstarch. Continue with remaining wrappers and filling.

Heat 1 tablespoon of the peanut oil and 1 teaspoon of the sesame oil in a large nonstick skillet over medium heat. Add half of the dumplings and cook until bottoms are golden. Add enough chicken broth to barely cover wontons, cover and simmer approx. 8 minutes. Remove and keep warm in a low oven while you prepare the remaining dumplings. Serve immediately with the dipping sauce.



Dipping Sauce




1/2 cup white vinegar
1 cup sugar
1 teaspoon minced garlic
1/2 small hot red chile, seeded and finely minced
Combine ingredients in a small bowl, cover and refrigerate until ready to serve.



Makes approximately 32 dumplings.