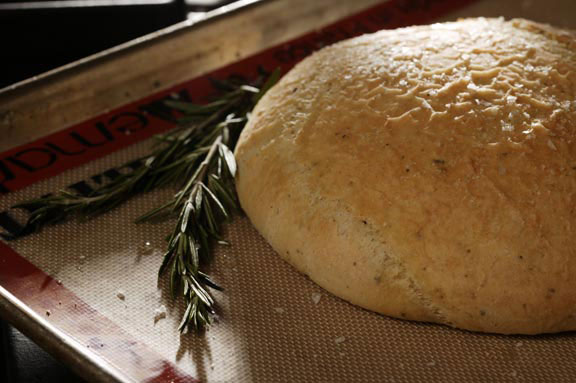 Food Processor Rosemary Focaccia

Focaccia bread probably began as a way to turn pizza dough into something special, but now it has become popular on its own. Flavored with rosemary, this Food Processor Rosemary Focaccia is a delicious accompaniment to soups and salads, and it is a snap to prepare.

Using my Viking Food Processor to prepare the focaccia eliminates a lot of the kneading involved in preparing the dough by hand. The dough also can be prepared in your Viking Stand Mixer. If you use the stand mixer, you'll want to chop your rosemary finely before proceeding with the recipe.

Most focaccia breads are pressed onto a pizza stone or baking sheet, but this version is prepared as a round loaf that's brushed with olive oil and sprinkled with coarse sea salt. The dough also can be divided into individual rolls or used as a flavorful pizza crust.


1 tablespoon fresh rosemary leaves
3 cups unsifted all-purpose flour
3/4 cup unsifted semolina flour
1/2 teaspoon salt
3 packages rapid-rise yeast
1 1/2 cups hot milk
2 tablespoons olive oil
Additional olive oil and coarse sea salt
Place rosemary, all-purpose flour, semolina flour, 2 tablespoons of olive oil, salt and yeast in the bowl of a food processor fitted with a steel blade. Pulse several times to chop rosemary and combine the ingredients.

Combine milk and olive oil in a 2-cup measuring cup and microwave for 1 to 2 minutes, until it reaches 120 degrees when tested with an instant-read thermometer.

Remove the feed tube from the food processor. Turn the food processor on and slowly pour in the milk and olive oil mixture. Continue processing until dough forms a ball and is smooth and elastic, about 3 minutes. Remove dough from bowl of food processor and turn out onto a flour-dusted work surface. Knead 10 times, form into a round loaf and place on a silicone mat or parchment paper-lined baking sheet. Cover with a towel and let rise for 30 minutes.

Preheat oven to 400 degrees F. Remove towel. Drizzle dough with olive oil and sprinkle with sea salt. Bake for 20 minutes. Remove from oven and drizzle with additional oil. Slice and serve.



Makes 8 servings