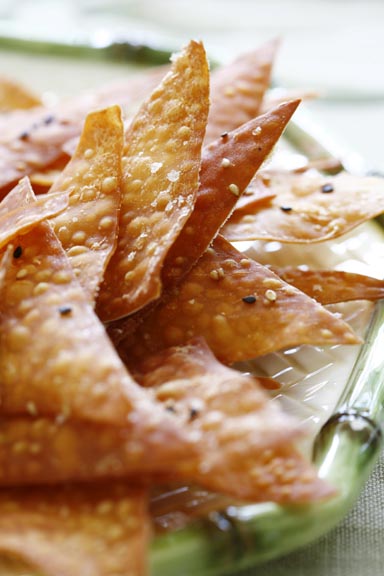 Sesame Crisps

Crispy wonton chips pair well with all sorts of dips, but most recipes require frying wonton wrappers in hot oil. You can make the crispy dippers in the oven with a whole lot less mess and fuss.

Here, store-bought wonton wrappers are sliced into two triangles and are brushed with a mixture of oil and egg white and sprinkled with sesame seeds before baking in a hot oven. Sesame oil adds an Asian accent, and black and toasted white sesame seeds and crunchy sea salt add color and flavor. Serve these with the Curried Chutney Dip or Watermelon, Tomato and Cucumber Salsa recipes on this site.


3 tablespoons canola oil
1 tablespoon toasted sesame oil
1 egg white
24 wonton wrappers
2 tablespoons toasted and/or black sesame seeds
Sea Salt
Preheat oven to 350 degrees F. Whisk the oil and egg white in small bowl to blend. Stack wonton wrappers and cut half, from corner to corner, creating a triangle. Place the triangles on parchment paper-lined baking sheets.

Whisk the oils and the egg together and brush each wonton wrapper triangle with of oil mixture and sprinkle with half of seeds and sea salt. Bake until golden, about 13 minutes.



Makes 48 chips.