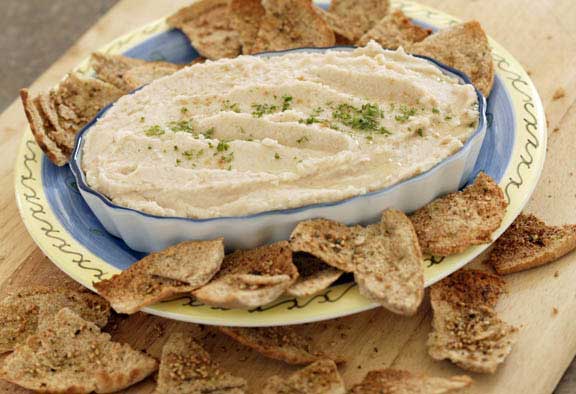 White Bean Hummus

Hummus, the chickpea spread flavored with garlic, lemon juice and tahini, used to be an exotic treat, but today it's everywhere. From your corner supermarket, to the food court at the mall, Americans are enjoying this delicious spread that's served all over the Mediterranean and Middle East.

This White Bean Hummus is a lighter version of the classic. Here, cannellini beans (Italian white kidney beans) replace the usual chickpeas. Cannellini beans are lower in calories than chickpeas, and they add extra creaminess to this delicious spread. Garlic and lemon juice bring flavor to the spread, but the usual tahini (sesame seed paste) is omitted to decrease the fat and calories. Ground cumin and a pinch of cayenne complete the flavor medley.

You can serve your White Bean Hummus with store-bought pita chips, or you can bake up your own with the recipe for Pita Crisps below.


2 16-ounce cans cannellini beans, drained, reserving ½ cup of the juices
1/2 cup fresh lemon juice, about the juice of 2 large lemons
1 teaspoon minced garlic, about 1 large clove
1 teaspoon ground cumin
Sea Salt, to taste
Pinch ground cayenne pepper
Place cannellini beans in the bowl of a food processor fitted with a metal blade. Add lemon juice, garlic, cumin, cayenne and salt. Pulse until the mixture forms a smooth paste. Taste, and add some of the reserved liquid from the beans if the paste is too thick and additional salt, if needed. Serve immediately, or refrigerate and serve chilled.



Makes 3 cups hummus.





Pita Crisps




1 package pita bread
Melted butter, olive oil or vegetable oil cooking spray
Cavander's Greek Seasoning (or other seasoned salt and herb seasoning blend)
Sesame seeds
Preheat oven to 375 degrees F. Split each pita into two rounds. Brush rough sides with the melted butter, olive oil or spray with the vegetable spray and sprinkle with the Greek seasoning and sesame seeds. Place on 2 parchment-lined baking sheets. Bake 12 to 15 minutes, until crisp. When cool enough to handle, break into pieces. Can be prepared 3 days ahead of use – keep in an airtight container.