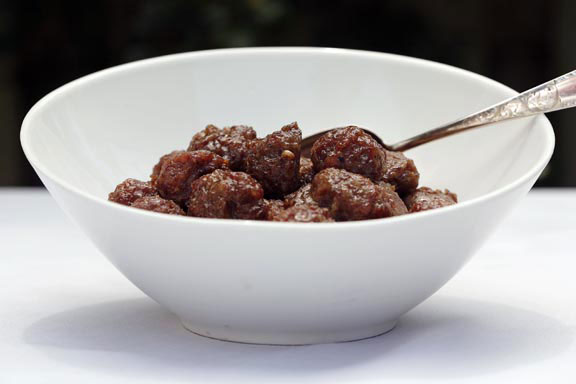 Maple Breakfast Meatballs

Meatballs for breakfast? I found the idea intriguing when I discovered them on a bed and breakfast website. And, after toying with the recipe (using more ground beef, adding shredded cheese or finely chopped onion), I discovered that the simplest variation was the best, but would be even better with a sweet kick of maple syrup.

The meatballs bake up in the oven, and I like to line the baking sheet with foil so that cleanup is a breeze. Once cooked, the meatballs can be cooled and frozen for several months. Simply reheat the meatballs in the maple syrup before serving.

I used regular bulk breakfast sausage when testing the recipe, but you can substitute hot breakfast sausage if that's what your family likes. The hot sausage combined with the sweet syrup make the meatballs a delicious option for an appetizer buffet.


2 pounds bulk breakfast sausage
1/2 pound extra lean ground beef
2 eggs, beaten
12 ounces real maple syrup
Heat oven to 350 degrees F. Combine sausage, ground beef, and beaten eggs together in a medium bowl. Form into small meatballs and place on a foil-lined baking sheet. Bake for 20 minutes, until browned and cooked through. Remove from baking sheet to a saucepan and top with maple syrup. Bring to a boil, reduce heat and simmer 10 to 15 minutes. Keep warm or serve immediately.



Makes 36 meatballs.