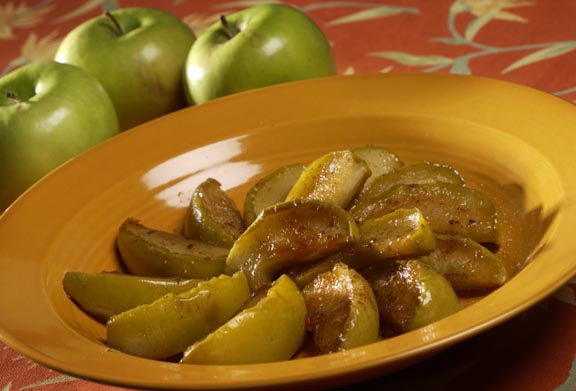 Scalloped Apples
Apples are abundant during the fall, so I take advantage of their seasonal bounty in cakes, pies and crisps. While I enjoy these autumn desserts, apples also make an appearance at big weekend breakfasts as Scalloped Apples. They pair beautifully with all your Saturday favorites, including pancakes, waffles, French toast and especially sausage. These apples also are good served warm over vanilla ice cream, or as a side dish to roast pork.

While I usually try to use specific measures in my recipes, this is an exception, as the recipe requires just a dash of grated nutmeg. I like to grate my own nutmeg, as the flavor is superior to the already product. And, whole nutmeg will last indefinitely without losing flavor. You'll just need to run the nutmeg across the grater once or twice to get the hint of nutmeg flavor desired here.


4 Granny Smith apples, washed, cored and sliced into wedges
1 teaspoon lemon juice
4 tablespoons butter
1/3 cup brown sugar
1/2 teaspoon cinnamon
1 pinch freshly grated nutmeg

Toss apple wedges with lemon juice in a bowl and set aside. Heat a large skillet over medium-high and add butter. When butter is melted, add apples and brown sugar. Sauté apples until they begin to get tender, about 5 minutes. Stir in cinnamon and nutmeg, and serve.


Makes 4 servings.