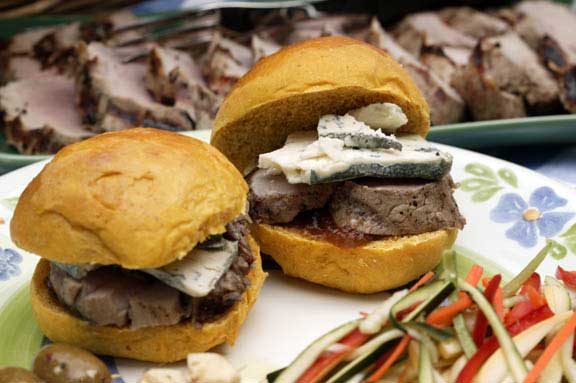 Cider-Brined Pork Tenderloin Sandwiches

Apples and pork are a perennial flavor combination that is especially pleasing in the fall. Here, lean pork tenderloins receive a moisture and flavor boost when soaked overnight in an apple cider brine that is flavored with maple syrup, black pepper and fresh sage. The flavor is heightened further when the tenderloins are rubbed with an aromatic mixture of garlic, nutmeg and cinnamon.

The tenderloins make appealing sandwiches for a tailgate or cocktail party when sliced and served on homemade Curried Pumpkin Rolls (see recipe on this site) or bakery yeast rolls, along with apple chutney and blue cheese. Or, serve the tenderloin as a delicious entrée, with sides of mashed sweet potatoes, scalloped apples (see recipe on this site) and steamed green beans.



The Brine




3 cups apple cider or apple juice
2 cups water
1/4 cup coarse sea or kosher salt
1/2 cup pure maple syrup
1 tablespoon coarsely ground black pepper
6 fresh sage leaves, sliced into thin slivers, or 1 teaspoon rubbed dried sage
Combine brine ingredients in a 2-gallon zip-top freezer bag, squeezing well. Add the pork tenderloins, seal bag tightly and refrigerate overnight.


2 pork tenderloins, about 1 1/2 pounds, well trimmed, washed and dried with paper towels
2 tablespoons olive oil
1 tablespoon minced fresh garlic (about 3 large cloves)
2 teaspoons coarse sea salt or kosher salt, plus additional for seasoning the fennel
2 teaspoons freshly ground black pepper, plus additional for seasoning the fennel
1/2 teaspoon ground nutmeg
1/2 teaspoon ground cinnamon
Curried Pumpkin Rolls (see recipe on this site) or bakery yeast rolls
Store-bought apple chutney
4 ounces Maytag or other good blue cheese
Preheat gas grill or rangetop chargrill on high heat. While your grill is heating, remove the tenderloin from the brine. Discard the brine. Rinse off tenderloins, pat dry with paper towels and lay on a cutting board or large baking sheet. Combine olive oil, garlic, salt, pepper, nutmeg and cinnamon in a small bowl. Massage mixture into the tenderloins.

Place tenderloins on grill and cook for 30 minutes. Turn tenderloins and grill for 15 minutes more, or until internal temperature of 145 degrees is reached. Set tenderloins aside for 10 minutes, (they will increase in temperature to 150 to 155 degrees). Slice meat on the diagonal and serve on the split rolls spread with apple chutney and topped with a slice of the blue cheese.



Makes 24 small sandwiches.