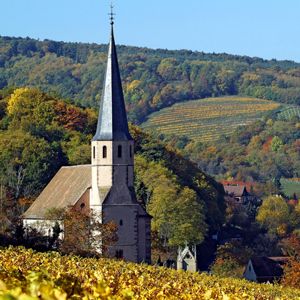 Alsace in the Fall - copyright enfrige
As a Sommelier, I have always enjoyed recommending and pairing the unique wines of Alsace with food, but I had never visited the region. I decided to correct that oversight and visit during the autumn harvest. My other unspoken wish in touring Alsace was to tuck into a plate of the first sauerkraut of the season, which I had heard was a seasonal delight.
Situated in eastern France, the utterly charming winegrowing region of Alsace has been battled over for years, with the land once belonging to Germany and called Elsass. With the Rhine River and the Vosges Mountains separating Alsace from its once warring neighbors, the culture, food, and language of this area owe much to the influence of both countries. Alsace produces a very distinct style of wine, 90% of which is white, from such grape varietals as Pinot Blanc, Pinot Gris, Riesling, and Gewurztraminer. While the wines have very bright acid, they can also be slightly sweet. This allows them an infinite time to age. It also enables them to complement the local foods, which are a meld of Germanic and French influences. Most of the Alsatian wine that makes its way into the United States is of very high-quality and can be enjoyed immediately or cellared indefinitely.
Ah, Alsace in the fall, wrapped in its autumnal beauty. Slightly overcast skies didn't cast any heavy shadows on the richness of the wine, nor the generosity of its vintners. Aromas of fermentation hung in the air as we bopped down the Route de Vin, taking note of the old ladies stooped to pluck grapes from the famed vineyards, and whose bright scarves were a stark contrast to the gray skies and browning leaves.
Alsace reminds me a bit of Piedmont, Italy, in its austerity. The people are friendly, yet reserved. For all of their fine clothes, food, and wine, they are neither showy nor dowdy. They are farmers with a great respect for the land and all that the land produces, mindful of not wasting vineyard space, an animal part, or precious energy. The landscape reflects the influences of a history full of so many invading peoples in its language, architecture, and food.
The heart of Alsace is Strasbourg, a small, beautiful city overrun with boxes of flowering geraniums, providing a splash of red against the ancient stone buildings. The food is incredible. Tarte flambee appears in every patisserie, its layers of rich cheese, local ham or bacon, and onion nestled in a buttery pastry. The fall heralds the arrival of the first charcroute of the season: pork sausages, ham shanks, root vegetables on beds of sauerkraut so delicate, I was convinced I was eating tagliatelle. Foie gras made its appearance in a variety of ways, the most memorable of which was a foie gras crème brulee served with thick slabs of toasted bread studded with nuts and figs. I still fantasize about that dish. And what of the liver dumplings, at once decadent in flavor but as light as the finest gnocchi? Or how about the bag of seven different varieties of the most delicious apples purchased from an orchard farmer who communicated only through smiles and gestures?
Our first stop was the brother and sister team of Domaine Ostertag. We then found our way to the charming winery of Marcel Deiss, and finally wound up at the comparably aristocratic Domaine Weinbach. All of the wines were remarkably beautiful. Each winemaker spoke not about varietals (as we Americans are so accustomed to hearing), but about Alsace's unique terroir – how the soils and climate influence the character of the wine – and how that is expressed through each wine. Alsace has more than 20 different soil formations, situated at varying heights on the Vosges Mountains.
Domaine Ostertag: Established in 1966 by Adolphe Ostertag, whose children have now taken over the reigns producing a modest 6,000 cases. Winemaker Andre and his sister, Annie, welcomed us warmly, tasting through more than a dozen different wines and giving us a tour of their Epfig property. A devout believer in biodynamic farming practices, Ostertag's wines are on the cutting edge. His acids scream, and his wines are clean, pure, and full of flavor. Seems that Andre's fervent belief in organic vineyard practices have ruffled a few feathers in the conservative hills of Alsace, but which visionary has had it easy?
Domaine Marcel Deiss: This charming winery is located at a bend in the road in Bergheim, dead center in Alsace. Winemaker Jean-Michel Deiss was born into a long-established family of winegrowers living in Bergheim since 1744. The property consists of 52 acres of hillside vineyards spread over 9 communes and they practice biodynamic farming. Deiss oenologist Marie Helene Christofaro took us through a tasting of more than a dozen wines, speaking of the specific terroirs (French for "soil") designed by geology, pedology, and climate. Deiss wines do not speak of a particular varietal, but rather of the region. In fact, their wines are often blends of several different varietals, which is uncommon, if not heretical in Alsace. Further, unlike elsewhere in France, the wine estates in Alsace label the wines with the varietal, as is legal to do. However, Deiss labels his wines instead with only the name of the vineyard. Indeed, he is a maverick. Marie Helene spoke of the fact that the vines are severely cropped, thus displaying the unique character that is Alsace. She continued that the larger the crop, the less concentrated the fruit and the less identifiable the terroir. Deiss wines are rich and delectable and, indeed, purely Alsatian.
Domaine Weinbach: We drove down the long gravel driveway to the main house, large and slightly imposing. We knocked on the huge front door, unsure if it was a tasting room or private home. As I reached for the latch, the door swung open and we were greeted by the elegant Catherine Faller. Catherine and her sister and mother, Laurence and Colette, run the domaine. The aromas of hearty foods were pervasive, as they were cooking the daily lunch for 30 hungry grape pickers. She showed us into a salon, the walls hung with family photographs. The property dates back to 890 A.D., when the Empress Richarde bestowed the land to the Abbey of Etival, who left it to the Capuchin monks. Named after the wine brook that meanders through the site, Domaine Weinbach was established in 1612 by those same monks. Catherine explained that the land was acquired in 1898 by the Faller brothers who left it to their son and nephew, Theo, a prominent figure in Alsace viniculture. Since his death in 1979, his wife Colette and her daughters have overseen Domaine Weinbach. It was an inspiring day to taste these remarkable wines, which assuredly express the terroir, but also reflect the charm and nobility of these three marvelous women. The following were the most memorable:
2003 Gewurztraminer Altenbourg Cuvée Laurence: Alsatian Gewurz is a truly overlooked wine of great intensity and expression, particularly in the hands of Domaine Weinbach. Spicy aromas with notes of candied grapefruit peel, rose-scented geranium and wet stony minerals. The palate is dense with fruit, flowers and minerals. Quite a mouthful now, it will be exciting to see this wine develop.
2003 Riesling Schlossberg, Grand Cru: This is a superstar with a great life ahead of it. 2003 was a fiery hot growing season in France, producing particularly ripe grapes. The high acid in this wine combines beautifully with the ripe fruit character from this vintage. Minerals, citrus, green apple, Bosc pear, and spice are all in perfect harmony and will continue to integrate as the years roll by. This is a serious, cellar-worthy wine.
2003 Tokay Pinot Gris, 'Altenbourg': One of my favorite wines of the trip – expressive aromas and flavors of ripe white and yellow peach, honey, dried apricot, spice, and candied citrus peel. The palate is full bodied with fruits, spices, and a mineral component that ties it all together. A nerve of acid keeps the richness in line, providing balance and harmony.
2003 Pinot Gris, 'Altenbourg,' Quintessence Sélections de Grains Nobles: Picked berry by berry, this rare, late-harvest nectar is the ultimate expression of Alsatian luxury. Aromas of spring flowers, honey, dried apricots, and ripe pears, this is rich, unctuous wine that you will be remembering the next morning. In fact, the length is so long that you may even taste it the next morning – a rare treat.