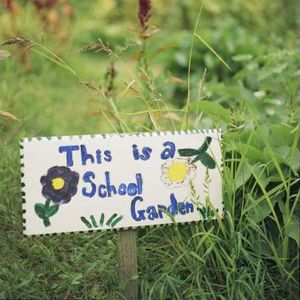 The Edible Schoolyard Project

Bordering the wide steps leading to the entrance of Samuel J. Green Charter School in Uptown New Orleans are planters and beds filled with clusters of bright green herbs and brilliant marigolds and petunias. The plants are much more than decoration: They're symbols of the accomplishments of the students who grew them from seeds.

Many more examples of the kids' industry appear on the grounds behind and beside the school building, where beds and tubs hold cabbages, parsley, broccoli, and other herbs and vegetables, as well as flowering plants. They are some of the teaching aids used in the New Orleans Edible Schoolyard (ESY) program, introduced at the Green Charter School in September last year in a broad-based effort to teach children respect for life through gardening, food, and cooking.


Through Edible Schoolyard, the children learn about food while using food as a way to learn. They're introduced to fresh, healthy fruits and vegetables while growing and studying plants. They're taught about the connection between plant life and the seasons, and study soil types to use in their growing projects.

A prime mover in the effort to bring the program to the Green school is principal Tony Recasner, a psychologist and former Loyola University professor who reopened the school in January 2006, four months after Hurricane Katrina hit the city. His goal is simply stated: "We hope to renew New Orleans one okra plant and one child at a time."

Recasner and faculty members produce a school curriculum that augments academic subjects with ESY's hands-on learning projects. Math students are taught how to measure ground spaces and to identify different shapes. Science teachers instruct in plant parts, weather, and decomposition. Seventh and eighth graders learn about Creole cooking and its traditions as part of their curriculum on Louisiana history. Some of them recently visited a Vietnamese community garden and church, then planted herbs found in Vietnamese cooking and wrote poetry and journal entries about the experiences.

In cooperation with the Crescent City Farmers Market, local farmers and fishers come to the school to acquaint the kids with the fruits, vegetables, and seafood they produce, and the kids visit farms and fishing boats to learn how the food they eat is grown and harvested. A dozen restaurant chefs are similarly involved.

The 350 children attending Green, in kindergarten through eighth grade, come from neighborhoods across the city. Many were deprived of experiences other kids have in their everyday lives. At Green these children are encouraged to explore a host of things that others take for granted. Some had never touched a worm or a flower. Some had never tasted a fresh carrot. Some rarely share meals cooked at home (95% of the student body qualifies for the federal free-lunch program.)

The thread running through everything in the Edible Schoolyard program—the food, the gardening, the social environment—is this community approach. "A lot of kids don't have the experience of working as part of a team—getting along at home, at school, and out in their communities," Donna Cavato, the program's director, said. "Through the communities here at school, they learn to respect each other. Together, they learn to nurture and create. They learn that we have the power to be destructive or to be creative by growing things and sharing. When the time comes for them to find jobs, they'll need to know how to work in a small group that's part of a larger group."


The Edible Schoolyard concept first took root in the Berkeley, Calif., school district as the brainchild of restaurateur Alice Waters, one of the country's foremost advocates of fresh, nutritious foods. The New Orleans program is the only other one being supported by Waters' Chez Panisse Foundation, which provided $110,000 in startup money.

The Alice Waters connection is due in part to a chance encounter she had in New York shortly after Katrina with Randy Fertel, son of the late Ruth Fertel, who founded the Ruth's Chris Steak House chain. Fertel heads the Ruth U. Fertel Foundation, which provided a $75,000 grant to the school's ESY program. He and Cathy Pierson of the New Orleans Town Gardeners club have been working especially closely with the project since its start.

Cavato says the nutritional part of the program is critical "because we want to bring more fresh, local foods into our cafeteria. Many of our kids have no grocery stores in their neighborhood. A lot of their parents have no vehicles to get to supermarkets. So a lot of the children eat most of their food here."

While more funds are being raised, the school's complete garden is in the final planning stages. In two years, a specially designed kitchen is expected to be completed. Until then, the kids use portable equipment to prepare such foods as slow-cooked apple sauce with several varieties of apples and hand-churned ice cream with Louisiana strawberries.

In a recent third-grade cooking class, a group of about 20 chattering kids gathered around a large, U-shaped table to be led through the preparation of simple pizzas. Their enthusiasm was total as they spooned oil and sprinkled freshly picked herbs onto the store-bought dough. They sat fascinated before a toaster-oven while the pizzas cooked, and then they shared the fruits of their labor.

Among the goals of the New Orleans Edible Schoolyard project is to become a model for other schools in the area as a way to reinvigorate public education. Five months after the ESY program came to the Green school, teachers say they've already seen improvement in many of the children's attention levels, behavior, and teamwork ability.

"They're empowered," Cavato said, "and they're proud of what they're doing. When you give them a chance to create and improve something, they take a lot of pride of ownership from it. They have the power to create and nurture, and they ultimately realize that this is the power to realize their dreams."

* The Edible Schoolyard in New Orleans, LA
* The Edible Schoolyard in Berkeley, CA