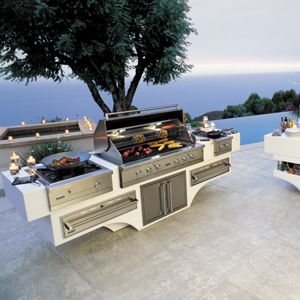 Ultimate Outdoor Kitchens

When it comes to kitchen design, the newest thing under the sun is, literally, the sun, as today's kitchens take to the great outdoors in ever-increasing numbers. The outdoor flavors, the experience of enjoying food hot off the grill, the fresh air environment — these all create a unique experience to spend time with loved ones. And, while a simple barbeque grill may once have sufficed, today's outdoor cooking centers now are complete outdoor kitchens.

"Outdoor areas like gardens and patios are now often considered rooms of the house. Since cooking and entertaining are such popular indoor activities, consumers are making the natural transition to doing these activities outdoors," says Sue Bailey, manager of product development, major appliances, at Viking Range Corporation. "Viking has noticed a jump in the popularity of not only outdoor grills, but also full outdoor kitchens."

Viking offers every advantage of a professional-style kitchen in an outdoor setting, and more than 100 variations of outdoor kitchen products — including stainless steel outdoor cabinets. You now have the ability to prepare and serve an entire meal outdoors without endless trips back into the home. And you can customize your outdoor kitchen based on your lifestyle — whether for whipping up cocktails at a refreshment center or baking in an outdoor gas oven.

While outdoor kitchens were once exclusively the purview of those lucky enough to be living in climates that remain warm year-round, patio heaters, rolling carts, modular cooking islands, weather-proof materials, and other innovations have made the outdoor kitchen possible even if you live in a cold weather climate.

An outdoor kitchen contains all of the amenities of its indoor counterpart –making it the new frontier of the home, and rooms like the kitchen are moving outdoors. Today's indoor kitchen is already a social center for entertaining, so the outdoor kitchen is a natural extension of this trend. Plus, the smell of something on the grill is irresistible.