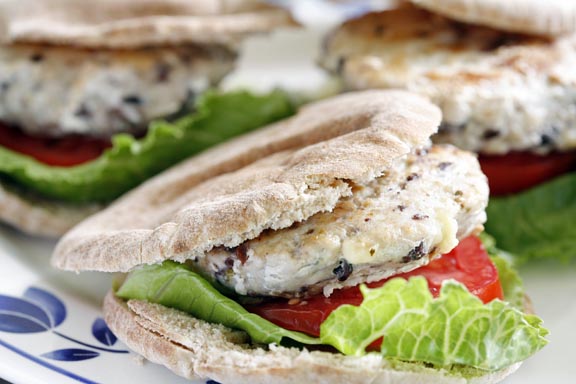 Greek Turkey Burgers
There's lots of buzz in the culinary world about "building a better burger", and these Greek Turkey Burgers are low fat and flavor-packed. What could be better than that? The burgers are topped with feta sauce and garnished with a slice of tomato and a lettuce leaf. Substitute lean ground lamb for the turkey for a delicious variation.
Greek Turkey Burgers with Feta Sauce
8 ounces reduced-fat feta cheese, crumbled, divided
1/2 cup plain nonfat yogurt
1 teaspoon minced garlic, about 1 clove
Salt and freshly ground pepper, to taste
1 pound ground turkey breast*
1/2 cup kalamata olives, pitted and chopped
1 teaspoon dried oregano
6 small whole wheat pitas or hamburger buns
Stir half the feta cheese together with the sour cream and garlic in a small bowl. Season to taste with salt and pepper. Cover and refrigerate until ready to use.
Preheat the grill to medium-high.
Combine turkey, remaining feta cheese, olives, oregano and season to taste with black pepper. Mix together and form into 6 patties. Lightly oil the grate or spray with nonstick grill spray. Place patties on the grill. Cook for about 5 minutes per side, until desired doneness is reached.
Makes 6 burgers.