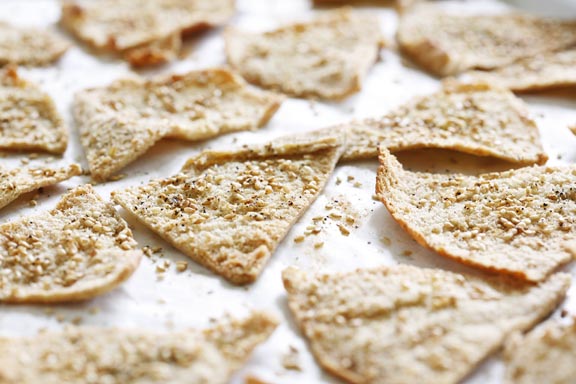 Pita Crispers

Pita chips are available at most supermarkets, but it wasn't long ago that serving pita chips meant making them yourself. Fortunately, they're not difficult to prepare and making your own is much more economical.

These Pita Crispers are brushed with butter and sprinkled with a combination of Greek seasoning and sesame seeds. You can spray the pita bread rounds with butter or olive oil-flavored nonstick cooking spray if you're counting fat grams. The chips are delicious served with the Savory Sweet Onions Spread recipe on this site, and are also delicious with hummus.


1 package pita bread
1/2 cup melted butter
2 tablespoons Greek seasoning* (or other seasoned salt and herb seasoning)
2 tablespoons sesame seeds
Preheat oven to 375 degrees F. Split each pita into 2 rounds. Brush rough sides with melted butter, sprinkle with the Greek seasoning and sesame seeds. Cut each round into 6 wedges and place on 2 Silpat or parchment-lined baking sheets.

Bake 12 to 15 minutes, until crisp. Crispers can be prepared 3 days ahead and stored in an airtight container.

*Cavander's Greek Seasonings was used for testing purposes only.