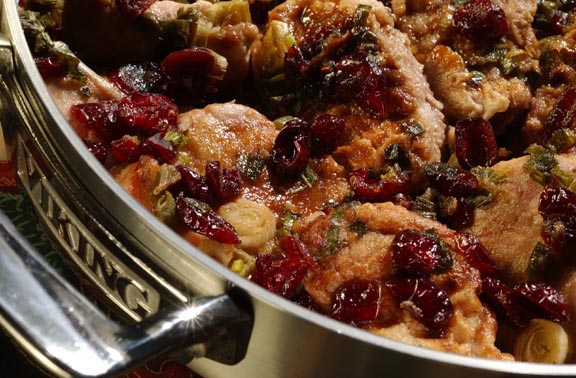 Maple Cranberry Pork Medallions
If you're looking for something quick, easy and elegant to serve over the holidays, here's the dish for you. Pork tenderloin is a nice change of pace from the usual holiday turkey or ham, especially when it's sliced into medallions, sauteed in a skillet and topped with a sauce of maple syrup, Dijon mustard, balsamic vinegar, green onion and dried cranberries.

This is a great make-ahead dish, since you can sauté the medallions and prepare the sauce in advance. Feel free to substitute boneless, skinless chicken breasts for the pork in this recipe. And adjust the amount of balsamic vinegar to your tastes. The tablespoon called for here gives a subtle tartness to the dish, but if you love the flavors of ``sweet and sour,'' increase the vinegar to two tablespoons.


Serve the tenderloin medallions with side dishes of steamed broccoli and packaged wild and white rice blend. Finish the meal with a chocolate cake, either from the bakery or the freezer section of your grocery store. To make the cake special, add a sauce to the plate made from frozen raspberries in syrup, which you've thawed and pureed. Sprinkle fresh raspberries around the plate and add a sprig of mint for restaurant-style presentation.


1 package boneless pork tenderloins (2 tenderloins), cut into 3/4-inch slices

1/2 teaspoon salt

1/4 teaspoon black pepper

1/3 cup all-purpose flour

2 tablespoons butter or margarine

2 tablespoons vegetable oil

1/2 teaspoon minced garlic

1 cup chicken broth

2 teaspoons Dijon mustard

2 tablespoons maple syrup

1 tablespoon balsamic vinegar

1/2 cup chopped green onion

1/2 cup dried cranberries

Salt and pepper to taste
Preheat oven to 375 degrees F. Combine salt, pepper and flour on a plate. Heat butter and oil in a large skillet over medium-high heat. Dredge pork medallions lightly in the flour mixture, shaking off excess, and sauté in the skillet until browned on both sides. Place in a glass baking dish.

Add garlic to same skillet. Whisk in chicken broth and mustard, scraping browned bits from the bottom of the pan. Boil for 5 minutes, reducing liquid by half. Add syrup, vinegar, green onions and dried cranberries. Cook 2 minutes more. Pour sauce over pork and bake in oven for about 10 minutes to heat through.

Makes 4 to 6 servings.