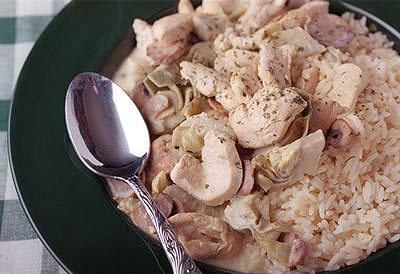 Sour Cream Chicken with Artichoke Hearts
When you're planning a dinner party or special family gathering, you want to be able to enjoy your guests without spending all of your evening in the kitchen. This recipe for Sour Cream Chicken with Artichoke Hearts is the perfect choice for at-home entertaining. It's quick to prepare, reheats beautifully, and is elegant enough for your most important guests.

Cut preparation time by purchasing stir-fry ready chicken strips from your supermarket. Most supermarkets also carry pre-sliced mushrooms, and you can pick up a package of frozen or canned quartered artichoke hearts which saves the time involved in steaming and preparing fresh artichoke hearts.

Begin your meal with a green salad with fresh sliced strawberries, chopped green onion and sliced raw mushrooms. Toss the salad with prepared poppy seed dressing, and serve your entree over white rice that you've cooked in chicken broth.


2 tablespoons butter or margarine
1/2 pound sliced fresh mushrooms
Salt and pepper
1 1/2 pounds boneless, skinless chicken breasts, sliced
1 9-ounce package frozen artichoke hearts, defrosted, or 1 14-ounce can artichoke hearts, well drained
1/2 cup white wine
1/2 cup chicken broth
1 teaspoon curry powder
1 cup sour cream
1 tablespoon flour
Cooked white rice
Chopped fresh parsley, for garnish
Heat butter or margarine in a large skillet over medium high heat. Add mushrooms, season with salt and pepper and saute until golden brown. Remove from skillet.

Season chicken with salt and pepper. Add chicken pieces to remaining butter in saucepan and saute until browned on all sides and nearly cooked through. Return mushrooms to skillet and add artichoke hearts, white wine and chicken broth, stirring well and scraping bottom of pan. Bring to a boil. Reduce heat and stir in curry powder.

Whisk flour into sour cream and add to chicken mixture over low heat, being careful not to boil. Heat, stirring often, until heated through. Serve over hot cooked rice and garnish with chopped parsley.

Makes 6 servings.

Note: The recipe can be prepared ahead and refrigerated in a greased casserole dish, tightly covered in plastic wrap. Uncover and reheat in a 300 degree oven for 20 minutes before serving.