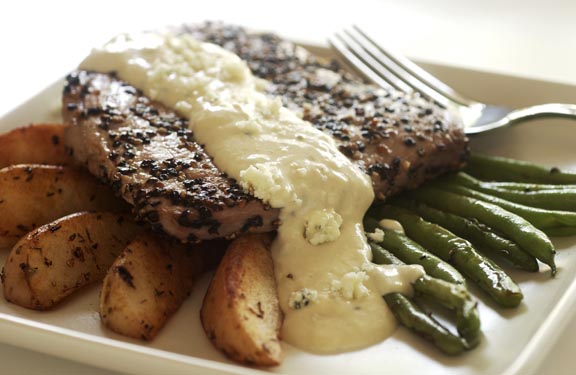 Tuna Au Poivre with Gorgonzola Cream Sauce
Beautiful sashimi-grade tuna steaks behind the seafood counter at my supermarket prompted me to come up with a special recipe last year. After selecting the tuna steaks, I perused the supermarket to come up with a new way to prepare them.

I turned to a classic steak preparation, Steak Au Poivre (steak coated in crushed peppercorns) for my inspiration. Then, I discovered that most supermarkets now carry already crumbled Gorgonzola cheese in the dairy case. I snatched up a package, along with a half pint of half and half, and my meal was planned.

I like to serve the tuna steaks on a bed of new potatoes and green beans. I cook the new potatoes and green beans in separate pots of salted water until just tender, drain them and set aside until just before dinner. Then, right before serving, the vegetables are given a brief sauté with butter and fresh thyme in a hot skillet. When they're heated through, simply give them a grinding of black pepper and a sprinkle of sea salt.

Plate the dish restaurant-style, by placing some of the new potatoes and green beans on the plate, topping with a seared tuna steak, and drizzling with the Gorgonzola sauce.


2 6-ounce fresh tuna steaks

1 tablespoon coarsely ground black pepper

1 tablespoon butter

1 tablespoon brandy or cognac

1 cup half and half

4 ounces crumbled Gorgonzola cheese

Place ground pepper in a plate and dip the top and bottom of each tuna steak in black pepper, coating well. Heat a large heavy skillet over medium high heat. Add tuna steaks and sear 5 minutes per side. Remove steaks to a plate and place in a warm (200 to 250-degree F) oven.


Add butter to skillet, and whisk well, loosening any browned bits remaining in the pan. Remove from heat and add brandy or cognac. Boil over high heat until liquid is almost evaporated. Add half and half and bring to a boil, reduce heat and simmer until reduced by half, about 5 minutes. Stir in Gorgonzola and remove from heat.

Top each steak with some of the sauce, and serve.

Makes 2 servings.