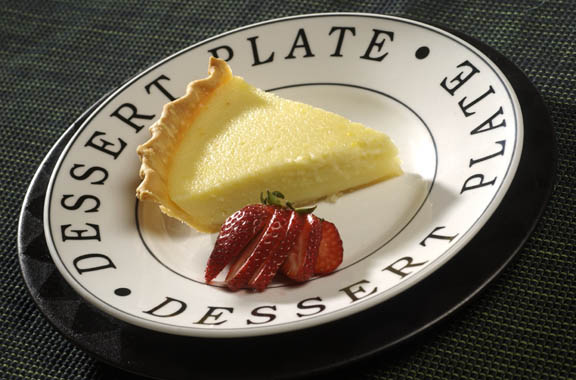 Buttermilk Pie
While Buttermilk Pie is a Southern tradition, its luscious sweet-tart flavor should be a welcome addition to summer picnics and parties anywhere. There are recipes abound for Buttermilk Pie, and my favorite recipe has been in my files for years. I began preparing Buttermilk Pie in college, before I was much of a cook. Like most custard pies, it's a cinch to put together.

Buttermilk is, of course, the common ingredient in this classic pie. The other ingredients, eggs, melted butter, and sugar, differ in amount from recipe to recipe. Many recipes use cornstarch as a thickener, but I opt for a bit of flour to do the job. And, my version gets dose of fresh lemon juice for flavor, while other version have a vanilla accent.

Buttermilk Pie is great for summer entertaining, as it travels fairly well and needs to be prepared ahead. Bake it early in the day, or even a day before serving, then slice the pie and garnish with fresh berries for a Southern summer sweet.


1 unbaked refrigerated piecrust or frozen pie shell
1 1/2 cups sugar
3 tablespoons flour
3 eggs, beaten
2 tablespoons melted butter
1 1/2 cups buttermilk
1 tablespoon fresh lemon juice

Preheat oven to 350 degrees F. If using a refrigerated piecrust, fit into a pie tin, trim and crimp edges and set aside.


Combine sugar and flour in a medium bowl. Add the eggs, butter, buttermilk and lemon juice and mix well. Pour into the prepared pie shell. Bake 50 minutes to 1 hour, until pie is set. Remove from oven and cool on a rack for 30 minutes. Refrigerate several hours or overnight before serving.

Makes 1 pie.