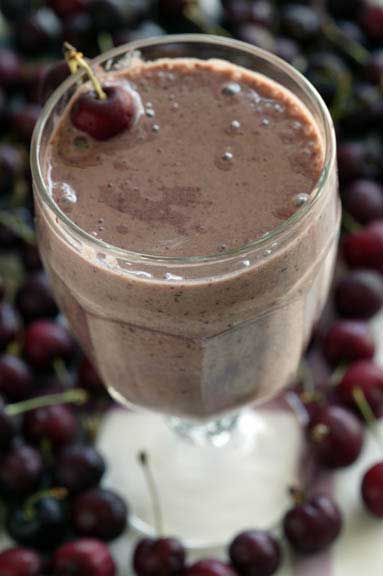 Cherry Vanilla Smoothie

The smoothie craze has hit the nation, becoming a favorite of milkshake-loving children and diet-conscious adults alike. Nearly every community has one if not several smoothie stands, and many coffee houses and sandwich shops offer an assortment of fruit smoothies, too.

I think that most recipes for home-prepared smoothies fall short for one simple reason: They use ice to create the frozen-smooth texture of the drink. I've solved the problem by eliminating the ice and using frozen fruit to "freeze" my smoothies for a full-flavored, healthful beverage. With this great recipe and my Viking blender, I can whip up the smoothest of smoothies in mere seconds!

While this recipe calls for frozen cherries and vanilla-flavored yogurt, you can substitute any variety of fruit and yogurt you like. Many supermarkets carry a frozen "smoothie blend," which is a mixture of several fruits including mango and pineapple. Boost the benefits of your smoothie by adding protein, soy powder or vitamin powders available at health food stores.


1 6-ounce container nonfat vanilla yogurt
1 cup frozen pitted cherries
1/2 cup skim milk
1 teaspoon vanilla extract
Combine all ingredients in blender. Cover with lid and puree until smooth and creamy, about 1 minute.



Makes 1 large smoothie or two small smoothies.