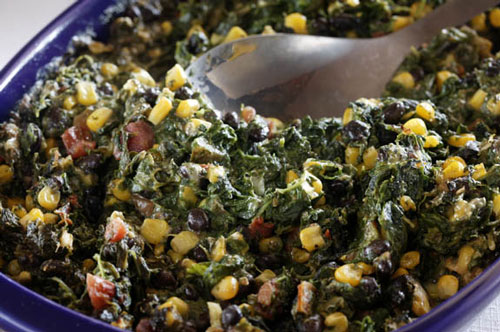 Quick Spinach, Corn and Black Bean Bake

I'm always at a loss when looking for a vegetable side dish to serve with Mexican fare so I developed this recipe for Quick Spinach, Corn and Black Bean Bake when planning to teach a Southwestern cooking class. The combination is the perfect accompaniment to tacos or enchiladas, and is so simple to prepare. A trip to the freezer section, a couple of canned goods, a few pantry spices and a sprinkling of shredded cheese is all it takes to whip up this delicious side dish.

The spiciness of the dish is dependent on the variety of tomatoes used. The Rotel brand of diced tomatoes with chiles offers the tomatoes in mild, regular or hot varieties, so pick your can according to your family's preferences. The side dish also makes a delicious filling for flour tortillas, so I'll often turn leftovers into vegetarian soft tacos or spinach quesadillas.


2 10-ounce packages creamed spinach, defrosted
1 10-ounce package frozen chopped spinach, defrosted and squeezed until almost all liquid is removed
1 10-ounce package frozen corn niblets, defrosted
1 15-ounce can black beans, rinsed and drained
1 10-ounce can diced tomatoes with chiles (Rotel tomatoes), drained
1 teaspoon chile powder
1/2 teaspoon garlic powder
1/2 teaspoon ground cumin
Sea salt and freshly ground black pepper, to taste
1 cup shredded Monterey Jack cheese
Preheat oven to 350 degrees F. Combine all ingredients except cheese in a large bowl. Season to taste with salt and pepper and pour into a baking dish that has been sprayed with nonstick cooking spray. Bake for 30 minutes, until hot and bubbly.



Makes 8 servings.