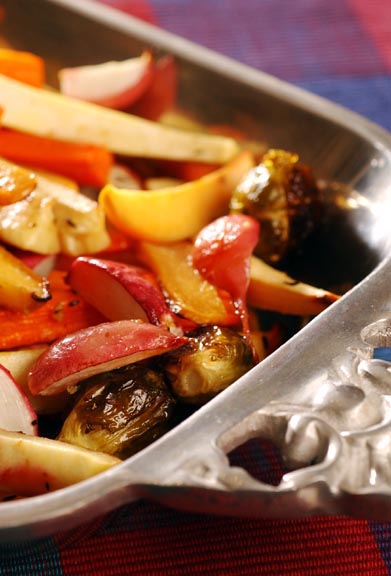 Roasted Autumn Vegetables

The summer produce stands may close down for the fall and winter, but the supermarket vegetable bins abound with the gems of autumn. Root vegetables including parsnips, yams, rutabagas and radishes along with Brussels sprouts and other members of the broccoli family, are favorites at my autumn table.

This recipe for Roasted Autumn Vegetables combines all of my favorites in a simple side dish. The medley of parsnips, rutabaga, carrots, radishes and Brussels sprouts is drizzled with a combination of olive oil, fresh thyme, crushed garlic and coarse sea salt before roasting in the oven for an hour and 15 minutes.

While radishes most often add a spicy bite to salads, they become sweeter and mellower when cooked. Give them a try in this recipe, and you may be adding them to other vegetable medleys as well.

Use the recipe as a base, and vary the vegetables according to what you have on hand. Yams or white potatoes are wonderful when roasted in the olive oil, thyme and garlic mixture. This simple side dish will be a welcome addition to your Thanksgiving menu, or served along side a roasted pork loin during the cooler months.


1 medium rutabaga, peeled and cut into 1/4-inch by 2-inch strips
8 to 10 Brussels sprouts, trimmed
1 large parsnip, peeled and cut into 8 wedges
2 carrots, peeled and cut into quarters
8 radishes, washed and quartered
1/4 cup olive oil
1 teaspoon fresh thyme
2 cloves garlic, minced or pressed
1/2 teaspoon coarse ground sea salt, or to taste
Freshly ground black pepper, to taste
Preheat oven to 450 degrees F. Bring a large pot of water to a boil and add the rutabaga strips and Brussels sprouts. Simmer for 10 minutes, until slightly tender. Drain well.

Place the rutabaga, Brussels sprouts and remaining vegetables in a 9-x-13-inch glass baking dish. Combine olive oil, thyme and garlic in a small bowl, and drizzle over the vegetables. Sprinkle vegetables with coarse sea salt and ground black pepper and place in the oven, uncovered. Bake for 1 hour 15 minutes, until vegetables are tender.



Makes 6 servings.