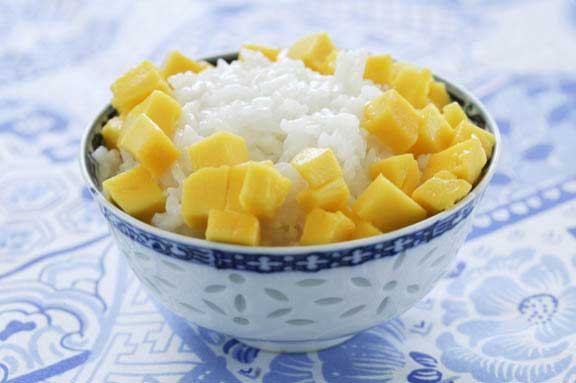 Sweet Sticky Rice with Mango

During a Thai cooking class at a local gourmet store I lamented about making restaurant-style Thai rice pudding at home. One of my students showed up the next week with her recipe for Sweet Sticky Rice with Mango and it was exactly what I was looking for.

Most recipes I had tried called for cooking Jasmine rice in a combination of coconut milk and sugar, but they lacked the texture of the dish I enjoyed in my favorite Thai restaurant. Here, the rice is cooked on its own while a can of coconut milk is reduced to one cup, and then is combined with sugar and a bit of salt.

The sweetened coconut milk reduction is folded into the warm rice for a dessert that is as comforting as Grandma's rice pudding, but much more sublime. When you top each serving with sweet, ripe mango the dish astonishingly tops Crème Brulé on my list of dessert favorites!


1 13.5-ounce can coconut milk
3/4 cup sugar
1/2 teaspoon salt
3 cups cooked Jasmine rice, about 1 ½ cups raw rice cooked according to package directions
3 ripe mangos, peeled and diced
Simmer coconut milk in a small saucepan until reduced to one cup. Add the sugar and salt to the reduced coconut milk and whisk until sugar is dissolved. Stir mixture into the warm Jasmine rice and let stand at room temperature about 30 minutes. Scoop into bowls or onto serving plates and garnish with the diced mango.



Makes 6 servings.