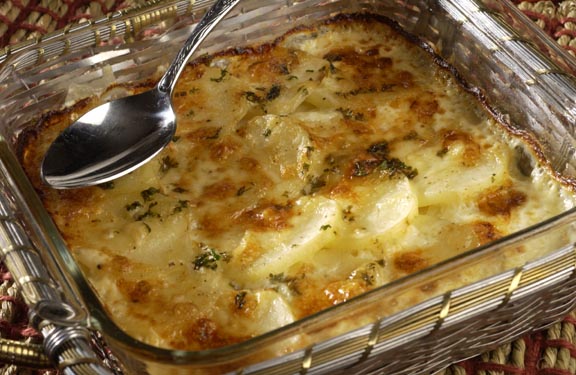 Swiss Scalloped Potatoes

My mother is famous for her scalloped potatoes. They're still the most-requested dish when my family gathers together. Since scalloped potatoes are such a family favorite, I came up with a signature version of my own with my Swiss Scalloped Potatoes. Peeled and thinly sliced potatoes are layered with shredded Gruyere cheese and chopped fresh parsley, then drizzled with whipping cream and topped with dabs of butter. Yes, these are fairly calorie-laden potatoes, but they make a wonderful side dish for special occasions.

I love the buttery taste of Gruyere cheese, but you can substitute standard Swiss if it's more readily available in your area. Serve the potatoes alongside roasted beef tenderloin as I do each Christmas, or with ham, pork chops or other simply prepared meats. Sautéed cherry or grape tomatoes and a green salad would complete your meal.


Butter
2 large baking potatoes, peeled and thinly sliced
2 cups shredded Gruyere cheese (about 8 ounces)
4 tablespoons chopped fresh parsley
1 cup whipping cream
Salt and freshly ground black pepper
Preheat oven to 350 degrees F. Grease a baking dish with some of the butter and lay half of the potatoes in the bottom of the dish. Season potatoes with salt and pepper, then sprinkle with half of the cheese and parsley. Repeat. Drizzle the whipping cream over the potatoes and place several dabs of butter over the top. Bake for 1 hour.



Makes 6 servings.