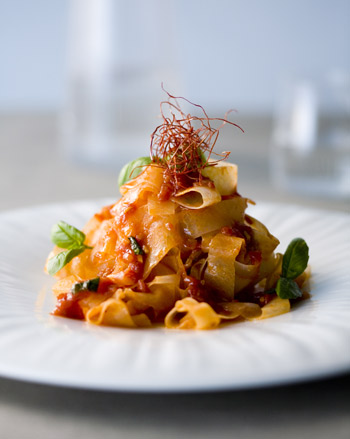 Daikon Fettucine with Tomato-Basil Sauce

By now, you've probably figured out I am very fond of visual puns. Here ribbons of daikon, the mild oversized white Japanese radish, pose as pasta. They are tossed with a quick tomato sauce spiked with a generous amount of fresh basil. The dish is light and is best served as a first course.


1 pound daikon
1 14.5 ounce can plum tomatoes
3 tablespoons extra virgin olive oil
1 small onion, finely chopped
2 garlic cloves, minced
1 1/2 to 2 teaspoons sugar
1 teaspoon salt
1 tablespoon fresh basil, chopped
Salt and freshly ground black pepper
With a swivel-blade vegetable peeler, remove the outer skin of the daikon; discard the skin. Continue to peel down the length of the vegetable, removing the daikon in long, narrow ribbons, which look like noodles. Soak the "fettuccine" in a bowl of cold salted water for 15 to 20 minutes.

Meanwhile, make the Tomato-Basil Sauce: Drain tomatoes, reserving half of the juice. Squeeze tomatoes through your fingers to mash them and combine with the juice; there will be about 2 cups.

In a heavy medium saucepan, heat oil over medium-high heat. Add onion and garlic and sauté until softened but not browned, about 3 minutes. Add tomatoes and their reserved juice, sugar, and the salt. Boil vigorously, stirring often, until the sauce is thick, 10 to 15 minutes. Stir in basil and season with salt and pepper to taste.

Drain the "noodles" and dry them on a kitchen towel. Add to the sauce and toss gently over medium heat, taking care not to break the Daikon Fettucine. Cook just until heated through, about 1 minute. Divide among individual plates, teasing the fettuccine into mounds. Serve immediately.



Makes 3 to 4 servings.