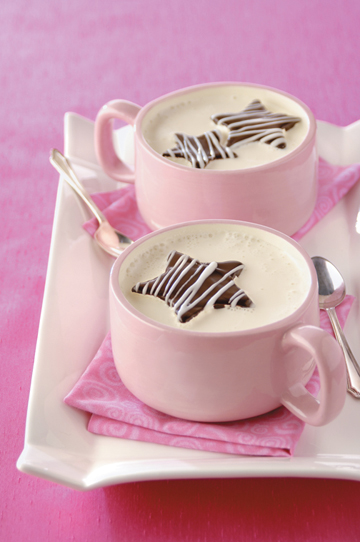 White Hot Chocolate

White chocolate is a bit of an oxymoron. In fact, technically, it is not chocolate at all! In the United States, in order to legally be called 'chocolate' a product must contain cocoa solids. White chocolate does not contain these solids. Smooth ivory or beige in color, real white chocolate is primarily cocoa butter, sugar, milk and vanilla. Its intense vanilla flavor is showcased in this cream-colored version of classic hot chocolate. Because it is very rich, you may wish to serve it in demitasse cups. Be sure to add a chocolate-covered marshmallow just before serving for dramatic and delicious effect!


3 ounces finely chopped white chocolate
1/2 cup heavy cream
1 1/2 cups whole milk
1/4 teaspoon vanilla extract
Dark Chocolate-Covered Homemade Marshmallows, optional (recipe is also on this site)
Peppermint sticks, optional
Place the chopped chocolate in a heat-proof bowl, and set aside. Combine the cream and milk in a small sauce pan over medium heat. Heat just until bubbles begin to form around the edges of the pan; do not boil.

Pour the hot liquid over the white chocolate. Let sit for about 30 to 60 seconds, then stir until the chocolate is completely melted and the mixture is smooth. Whisk in the vanilla, then whisk vigorously until a light foam forms on the surface of the liquid.*

Pour into heated cups, and garnish with chocolate-covered marshmallows or a peppermint stick. Serve immediately.



Tips and Techniques


* A hand-held latte frother makes it very easy to create light, frothy hot chocolate!

Variation: For a festive adult version, add 2 tablespoons Peppermint Schnapps and 2 tablespoons White Crème de Cacao (or more, to taste) when adding the vanilla.

Serves 2 to 4



Exclusive recipes provided by Viking Cooking School.