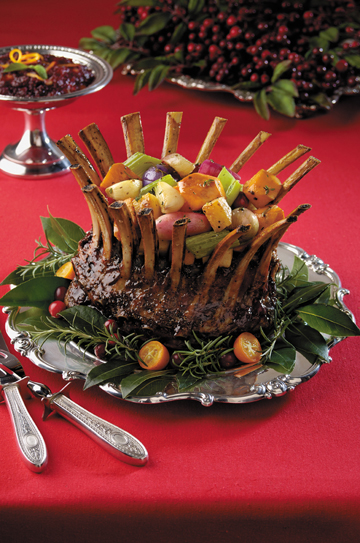 Cranberry-Balsamic Glazed Crown Roast of Lamb Stuffed with Caramelized Vegetables

Nothing says celebration quite like a majestic crown roast. Temptingly glazed, filled with caramelized vegetables, and festooned with rosemary and fresh cranberries, this show-stopping entrée is sure to make your holiday dinner party memorable. Don't be intimidated by the lengthy appearance of the recipe, this impressive dish is really quite simple to make.



Glaze




1 (11 1/2-ounce) can frozen cranberry juice concentrate, thawed
1/4 cup balsamic vinegar
1 large shallot, peeled and sliced into thin rings
2 to 3 cloves garlic, peeled and left whole
Combine cranberry juice, balsamic vinegar, shallot and garlic in a small sauce pan. Place over medium-high heat and bring just to a boil. Lower heat and simmer until reduced by half, about 10 minutes; you should have approximately 3/4 cup glaze. Do not over-reduce, or glaze will become too thick. Set aside 3 tablespoonfuls of glaze to be used for vegetables; leave remainder of glaze in sauce pan to be used for glazing the roast and making the sauce.



Lamb




1 crown roast of lamb made from two 8-rib lamb racks (about 4 to 4½ pounds)
3 tablespoons rosemary olive oil
Salt and freshly ground black pepper, to taste
1 bunch fresh rosemary, for garnish
Fresh cranberries, for garnish
Preheat oven to 450 degrees F. Place a rimmed baking sheet in the oven while preheating. Line a roasting pan with aluminum foil. Brush crown roast, inside and out, with olive oil; season generously with salt and pepper. Place roast in the prepared roasting pan, then cover the exposed bones with aluminum foil. Crumple a large sheet of aluminum foil into a ball; the ball should be approximately the size of the inside area of the roast. Press foil ball into center of roast to help it maintain its perfectly round shape. Place roast in the oven and cook for 20 minutes.

Remove and discard foil ball from center of roast. Thickly brush roast, inside and out, with glaze, then return to the oven and continue cooking to an internal temperature of 130 – 135 degrees F for medium rare, about 10 minutes more.* Remove from oven and thickly glaze again. Transfer roast to a cutting board with a well; tent lightly with aluminum foil and let rest for 10 minutes.



Vegetables




6 to 8 shallots (about 4-ounces), peeled and left whole
2 medium parsnips (about 8-ounces), peeled and cut into 1-inch cubes
1/2 medium rutabaga (about 8-ounces), peeled and cut into ½-inch cubes
1 medium sweet potato (about 10-ounces), peeled and cut into 1-inch cubes
1 head garlic, separated into cloves, cloves peeled and left whole
1 medium red onion (about 8-ounces), peeled and cut into 1-inch pieces
2 stalks celery, ends trimmed and cut into 1-inch pieces
1 tablespoon thinly sliced fresh chives
1 tablespoon minced fresh flat-leaf parsley
1 teaspoon minced fresh rosemary
3 tablespoons extra-virgin olive oil
Salt and freshly ground black pepper, to taste
While lamb is roasting, place all of the vegetables in a large mixing bowl. Add herbs, olive oil and 1 tablespoon of reserved cranberry-balsamic glaze. Toss to mix thoroughly and evenly coat the vegetables. Season with salt and pepper.

Pour vegetables onto pre-heated baking sheet; spread them into an even layer. Roast until vegetables are just barely tender when pierced with a skewer or the tip of a small knife, approximately 20 minutes; use a metal spatula to turn the vegetables halfway through the cooking time. Drizzle remaining 2 tablespoons of glaze over vegetables, stirring evenly to distribute glaze. Place back in oven and continue cooking until vegetables are tender, about 5 to 8 minutes more.



Sauce




1 1/2 cups strong veal, beef, or lamb stock
1 teaspoon brandy, of drinkable quality
Salt and Freshly ground black pepper, to taste
Add stock, and any collected meat juices from the cutting board, to the sauce pan containing the glaze; stir to combine. Place over medium-high heat and bring to a simmer, cook until reduced to a light sauce consistency, about 6 to 8 minutes. Strain through a fine mesh strainer, pressing firmly on the shallots and garlic to push their pulp through the strainer. Stir in brandy, then season to taste with salt and pepper; keep warm.

Remove foil from the rib bones, then transfer roast to a large serving platter. Mound vegetables in the center of the roast. Garnish platter around the base of the roast with fresh rosemary sprigs and whole cranberries. Pour sauce into a warmed sauceboat for passing separately.

At the table, spoon vegetables onto each dinner plate, then carve the roast into chops; place 2 to 3 chops on each plate. Spoon some of the sauce around the chops and serve immediately.



Tips and Techniques



* Note: For medium doneness, cook to an internal temperature of 140 to 145°F; for medium-well doneness, cook to an internal temperature of 150°F. Continue to glaze the lamb every 5 to 10 minutes of additional cooking time.



Serves 4 to 6





Exclusive recipes provided by Viking Cooking School.